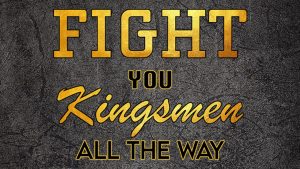 Penn Girls Basketball star Trinity Clinton committed to Division I Loyola of Chicago. Clinton is All-Time leading scorer in Penn Girls Basketball history and also owns the Penn Girls Basketball record for most steals.
Penn Girls Lacrosse opened the state tournament with a 12-9 victory against Zionsville. Juli Kirkpatrick led Penn with five goals. Emily Parrott and Sequoia Deleu scored three goals each.
Penn Boys Lacrosse celebrated Senior Night with a 15-0 smackdown against Elkhart.
Aidan O'Connell, C.T. Loring and Ewan Ma scored three goals each.
Chris Head led a relentless Kingsmen defense, and Wiley Payne and Cole Potter shared the shutout in goal.
Penn Girls and Penn Boys Track and Field teams each claimed Northern Indiana Conference Championships.
The Penn Girls won the NIC Crown on Tuesday, May 11. Nicole Marshall won four blue ribbons for the Kingsmen, and Julie Smith placed first in three events.
The Penn Boys earned the NIC Track and Field Championship on Thursday, May 13. Vincent Nierzwicki-Trifiletti won blue ribbons in three events, and Mariano Retzloff was ahead of the pack in two events.
Penn Baseball and Penn Softball each win critical NIC showdowns.
The Penn Girls Softball Team wrapped up the NIC Championship with an 11-1 win against Jimtown. Abby Widmar had two hits, including a homer, and drove in four runs to power the Kingsmen.
Penn Baseball blasted Jimtown 11-4. Zach Hoskins punished Jimtown with two hits, two stolen bases and three RBIs.
The Penn Boys Golf Team won the coveted Orange Jackets of the prestigious Uebele Invitational. Ryan Hahaj led the Kingsmen effort with a 70.