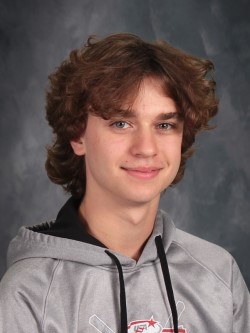 DOMINIC JENNINGS

What lessons have you learned through athletics?: The best lesson i have learned is to always try your hardest in whatever you do
Why did you decide to play hockey?: I hated hockey when i first started, my mom made me keep going and within a couple times on the ice i started to like it.
What role will you play in the Penn hockey program this year?: As an assistant captain and senior on the team, i have to lead by example and motivate my teammates to be the best they can.
How are you planning to prepare for the upcoming season?: Giving 100 percent at practice and getting in the gym and working out as much as possible.
How do you think the hockey team will perform this season?: Better than last season for sure, I think we will have a lot more team chemistry as well.
Do you plan to continue playing hockey after high school?: If the school I end up going to has a hockey team then probably.
What is your favorite sports movie and why?: I can't choose just one but it's definitely between D2 The Mighty Ducks and Miracle on ice. I like them because they're great hockey movies about teams that beat the odds and won gold at the Junior Olympics and Olympics.
Do you have any pre-game rituals?: Nothing too special, i like to get to the rink early and tape my sticks and listen to music
Do you have any pre-game meals or snacks?: I'm not very consistent with any pre-game snacks or meals, but Jimmy Johns is always a good go-to for me.
What number are you and why did you choose it?: My favorite hockey player Auston Matthews is No. 34 and that's why I chose it.