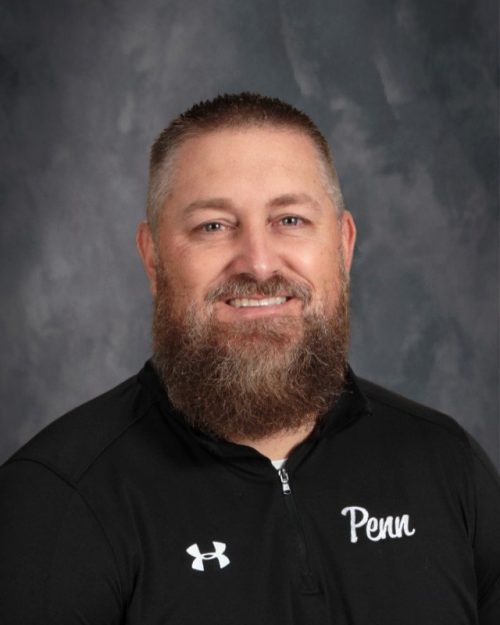 Penn High School Athletic Director Jeff Hart announced that Chad Wetzel has been named the head coach of the Penn Kingsmen Boys Track and Field Program, pending school board approval. Wetzel replaces Jon Carroll, who resigned at the end of a 2021 season that saw the Kingsmen win Sectional and Regional Championships.
Wetzel is a 2000 graduate of Ball State University. He has been an assistant coach for Penn Boys Cross Country and Penn Boys Track & Field in 2020-2021.
As the Boys Track Head Coach at South Bend Riley, Wetzel guided the Wildcats to a Sectional Championship in 2009 and coached 18 state qualifers. The Wildcats were South Bend City Champions in 2011, 2012, 2018 and 2019. He coached seven Riley student-athletes who placed in the Top 10 at the IHSAA State Championships.
Wetzel was named the Northern Indiana Conference Cross Country Coach of the Year six times as the Riley Boys and Girls Cross Country Head Coach. His Riley Boys Cross Country Team won Sectional Championships in 2008, 2013 and 2014, and the Wildcats were state qualifiers in 2013 and 2014. Riley won NIC crowns in 2006, 2008, 2013 and 2014. The Wildcats claimed the City Championship 12 times.
Riley Girls Cross Country won a Sectional Championship and Northern Indiana Championship in 2008, and were City Champs five times under Wetzel's guidance.
"Coach Wetzel has a proven track record of high-end success during his almost 20 years of coaching high school track & field and cross country," Hart said. "As a long-time head coach in the area, he brings immediate credibility, both on and off the field, and we are thrilled to have him join our outstanding group of head coaches at Penn.
"(Coach Wetzel's) ability to communicate positively and his emphasis on developing high character student-athletes fit the culture here perfectly," Hart stated.