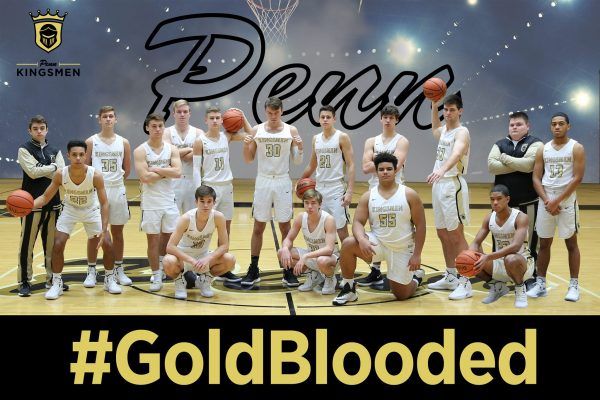 Penn High's Boys Basketball Team turned a gutty effort to survive an opening-round Class 4-A Penn Sectional Showdown with South Bend Riley, as the Kingsmen scored a 50-48 victory on Tuesday, Feb. 26, 2019.
No. 9 Penn (20-3) advances to play LaPorte (12-10) at 7:30 p.m. on Friday, March 1, in Sectional Semifinal action at Penn. No. 10 Riley's season ends at 18-5.
Penn's relentless defense prevented Riley from getting off a shot at the buzzer, and the jubilant Kingsmen celebrated the hard-fought triumph.
Noah Applegate scored 13 points and worked for nine rebounds.
Kegan Hoskins scored 12 points and also fought for nine rebounds. Hoskins made a stunning play in the fourth quarter, sprinting the length of the court and soaring for a blocked shot to snuff a Riley fastbreak.
Beau Ludwick & Drew Lutz hustled for 10 points each. Lutz also had eight assists.
Lutz now has 992 points in his career, just eight points shy of becoming the seventh player in Kingsmen Boys Basketball history to reach the 1,000-point mark.
Carter Hickey scored two points, but dished out four assists and soared for three blocked shots.
PENN 50: Carter Hickey 2, Drew Lutz 10, Beau Ludwick 10, Noah Applegate 13, Kegan Hoskins 12, Derek Derda 3. TOTALS 16 9-11 50.
South Bend Riley 48: Braylon Giden 5, Trevor O'Neal-Fortune 5, Gabe Johnson 9, Blake Wesley 15, Jalen Jennings 6, Tyson Lee 0, Dayvion Anderson 2, De'Jon Barney 2, Jaqwan Ulmer 4. TOTALS 16 7-9 48.
PENN 6 17 35 50
Riley 8 17 34 48
Three-pointers: PENN 3 (Beau Ludwick 2, Noah Applegate 1), Riley 3 (Giden 1, O'Neal-Fortune 1, Wesley 1).