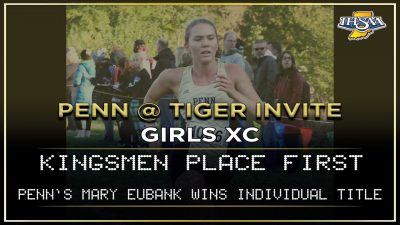 Penn Freshman Mary Eubank led the Kingsmen Girls Cross Country Team to the Team Championship of the Warsaw Cross Country Classic on Tuesday, Aug. 25, 2020.
Click the PDF at the bottom of the post for complete results.
Eubank made her high school varsity debut memorable, running the 5K course in 20:15.3, nearly 10 seconds ahead of runner-up Norris Eden of Leon.
Penn placed five runners in the Top 10 and eight in the Top 16.
The Kingsmen finished with 31 points, followed by Leon with 69 and Warsaw with 82. Mishawaka was fourth in the 10-team meet with 114 points.
"I am thrilled with the way we opened the season," Penn Head Coach Michael Clements said. "It's always nice to win, but more than anything I was excited with the way we competed.  Today was extremely hot, about 90 degrees at race time, and the start got delayed 15 minutes because a team was running late.  As a team we've talked about and worked on how we respond to adversity, and I'm proud of the ladies for handling two more instances of it like champions.
"For many of the ladies, today marked either exactly 10 months or 11 months since they last had an opportunity to race," Clements continued. "If I didn't know that, I would have been shocked to hear it.  They executed our race plan perfectly, and it showed with lots of strong finishes picking up critical points by passing other runners coming down the final 600 (meters) home stretch at Warsaw's course."
"Clearly we had great success at the front of the pack with Mary Eubank being the overall winner and five total in the top 10," Clements said. "But I'm equally excited that of the 35 girls who stepped on the line today, every one of them broke 30 minutes in tough conditions."
After Eubank's blue-ribbon effort, Morgan Gannon placed fifth (20:31.3) for Penn, and Nicole Marshall placed sixth (20:36.0). Reagan Hoke was ninth (20:47.9) and Ellie Stabnik was 10th (20:50.8).
Also competing for the Kingsmen and placing in the Top 25 were 12. Nikki Jerzak (20:59.9), 15. Ava Gillis (21:06.7), 16. Mackenzie Holland (21:07.6), 24. Haley Makowski (22:00.1),