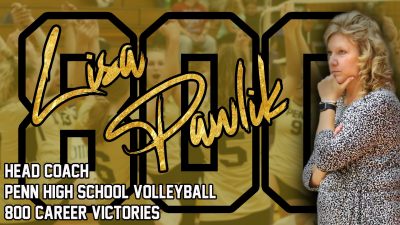 By CADENCE McGLOTHLEN
Penn High School Volleyball Coach Lisa Pawlik earned her 800th career victory on Saturday, Sept. 12, 2020.
The Kingsmen defeated Brownsburg 21-25, 25-14, 15-11 at the New Castle Invite to give Pawlik her milestone victory.
"It was a huge honor to have been able to coach all the girls that made this milestone happen," said Pawlik, who coached Penn to a State Championship. "As I talked to my former players, it was such an honor to have remembered all the special wins."
Senior Addy Kois said that Pawlik creates a special Volleyball experience for student-athletes that leads to success in many ways, including victories on the court.
"The culture that she creates for her teams is something unlike any other coach, and that leads to her wins," Kois said
Pawlik said that coaching is a special profession.
"I love the game, being able to touch the lives of young women reaching for their dreams is so special to me," Pawlik said. "I love special learning moments and winning.
"It takes the support of husband and children," Pawlik said when asked what it takes to be successful at an elite level. "I never once felt like they weren't a part of this program. You have to love what you do. Having come back after retirement, it just feels like home."
Pawlik has been coaching for more than 30 years. She values practice as much as she values the contests.
"I love being able to see the growth of the team and then take it to compete at a high level," Pawlik said.