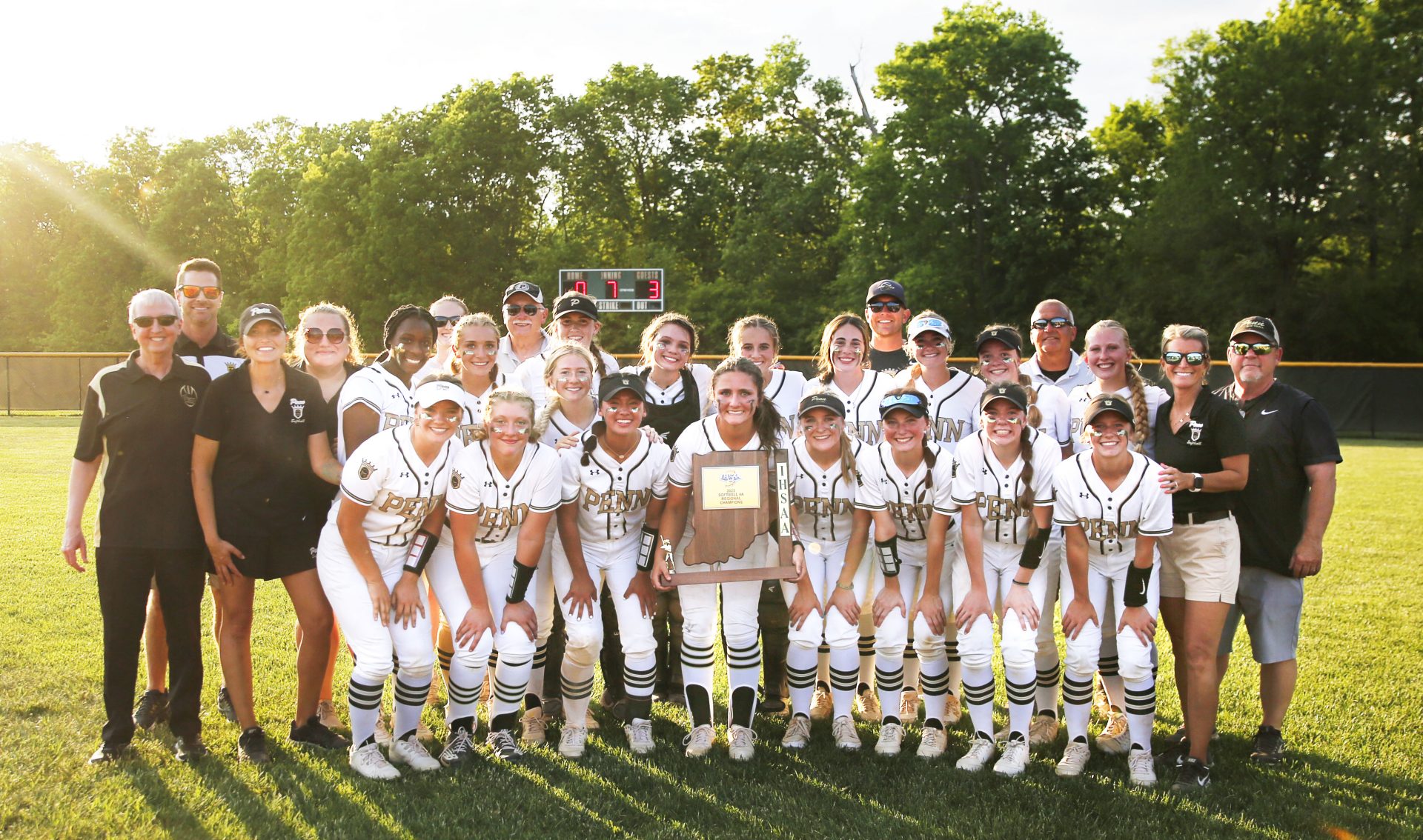 Coach Beth Zachary and the Penn Softball Team are headed to the 2023 Class 4-A Softball State Championship Game after the Kingsmen defeated Lake Central, 5-1, to win the North Semi-State crown on Saturday, June 4.
Penn defeated host West Lafayette Harrison in the first Semi-state Game, 4-3.
Click here for tickets.
No. 5 Penn (27-4-1) takes on defending state champion and No. 1-ranked Indianapolis Roncalli (31-3-1) at 7 p.m. EDT. The game will be played at Bittinger Stadium, Purdue University, 1324 McCormick Road, West Lafayette, Ind.
Stadium Info | Map
Road Closure: Cherry Lane is closed to traffic between McCormick Road and Northwestern Avenue.
Admission is $15 a person for each State Championship Game. Children five (5) years old and younger free of charge. All ticket sales will be digital only. No cash or credit card sales at the gate. Each participating school will have private links to share with its patrons during the week with remaining tickets made available to the general public later in the week. Please purchase tickets online in advance and present your purchase verification on your mobile phone to gain admittance at the gate.
All four state championship games will stream exclusively at IHSAAtv.org via pay-per-view for $15 per game or $20 for all games.
Penn defeated Roncalli, 13-3, on Saturday, April 22, but Roncalli's All-American pitcher, Florida recruit Keagan Rothrock, did not pitch in that game. Rothrock, the Nation's No. 1-ranked high school Softball player, struck out 21 Kingsmen batters in a seven-inning game last season.
In the victory against Lake Central, Olivia Signorino pitched a three-hitter, allowing one run. She struck out 10 and only walked one.
Kiley Hinton blasted a 2-run homer and a double. She drove in three runs.
Izzi Hanna and Abby Widmar had two hits each. Widmar and Hanna each smacked doubles.