Volleyball: Penn rolls past Riley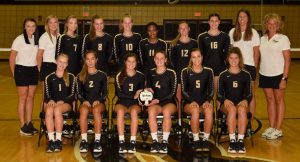 Penn Volleyball opened its Northern Indiana Conference season with a 25-7, 25-6, 25-5 victory against South Bend Riley on Thursday, Aug. 23, 2018.
Ali Moore had 3 aces and 5 digs, Emma Hickey had 6 digs and Bella Phillips had 8 kills and a block.
Alyssa Torres had 15 kills, Molly Pooler had 5 kills, and Addy Kois had 15 assists.
Ally Hickey had 19 kills and 2 aces, Lauren Baker had 4 kills, and Amari Torain had 6 kills.
"This win was a total team effort," Penn Head Coach Lisa Pawlik said. "The girls came to win and took a step closer to their NIC championship goal."