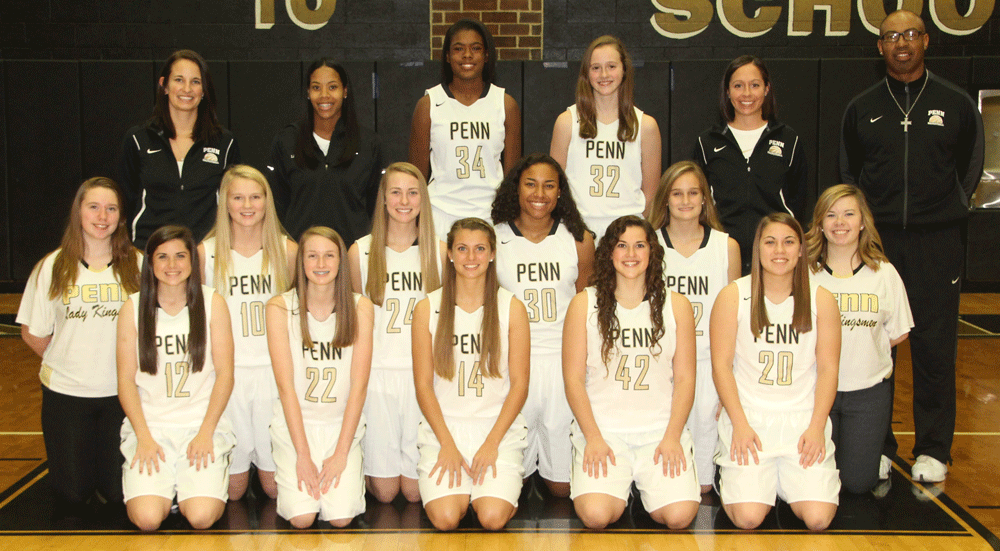 Penn High's defending state champion Girls Basketball team eliminated Elkhart Central 45-28, on Friday, Feb. 3, to advance to the Class 4-A Sectional Championship game at Goshen. Penn will play the winner of the Warsaw-Northridge game.
Coach Kristi Kaniewski Ulrich's Kingsmen will seek their seventh consecutive Sectional Championship. The tip-off is set for 7:30 p.m. on Saturday night at Goshen.
Penn will take a 20-4 record in the championship game. Elkhart Central finishes at 12-11.
Penn's only senior, Lindsy Kline, led the Kingsmen with 19 points.
Junior point guard Sara Doi scored 13 points, and freshman Reganne Pate hit a pair of 3-pointers for six points.
Penn unleashed a stifling defense on Central. The Kingsmen shut out the Blue Blazers in the first quarter, and didn't allow a field goal in the first 14 minutes and 16 seconds of the game.
Penn's victory was its 26th in a row against Elkhart Central.
PENN 45: Chloe Foley 0, Kelsi Carrico 0, Victoria Smith 3, Sara Doi 13, Reganne Pate 6, Makenzie Kilmer 2, Anne Goralczyk 2, Antreese Shelton 0, Marissa Trewhella 0, Lindsy Kline 19, Delayne Sanchez 0, Caroline Morris 0.
ELKHART CENTRAL 28: Katey Gaff 0, Mady Miller 0, Julee Miller 0, Trinitee Harris 11, Jordan Ware 2, Jayda Miller 0, Kristen Hunt 8, Abbey Miller 0, Tylar Roberson 7, Lauren Kollat 0, MaKayla Roundtree 0, Raleyah Ross 0, Aujanae Miller 0.
Penn                          6          23        33        45
Elkhart Central         0          6          18        28
Three-pointers: PENN 7 (Doi 3, Pate 2, Smith 1, Kline 1), Elkhart Central 2 (Hunt 2).