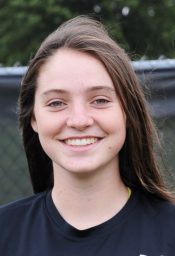 By MALLORY NEWMAN
Penn Senior Girls Soccer player, Molly McLaughlin, has had an eventful journey so far throughout her Penn High School soccer career.
McLaughlin moved to Indiana from Seattle, which was a difficult transformation. Her father, Jim McLaughlin, left the University of Washington to take over as the Notre Dame Volleyball head coach. Molly's mother is a former Notre Dame assistant women's soccer coach.
After joining the Kingsmen Soccer Team as a sophomore, she helped lead Penn to the State Championship Game. The Kingsmen finished runner-up to Indianapolis Brebeuf Jesuit.
As a junior, McLaughlin helped Penn win the State Championship game.
This season, the Kingsmen are ranked No. 1 in Indiana, and were ranked No. 1 preseason in the nation.
Recently, Molly had a serious injury to her foot, which made her have an absence with soccer. She showed an appearance back on the field on Wednesday, Sept. 20, against Penn's tough rival, South Bend St. Joseph High School.
McLaughlin said that it was more difficult than she thought by being away from her passion for a long time. While she was resting, it gave her a lot of time to think about how meaningful soccer is to her.
After her high school career ends, McLaughlin will play at Xavier University.
McLaughlin's parents helped guide her through the recruiting process.
"By having both of my parents as coaches, it has helped me as a developing player and in the recruiting process as I was making a decision about my future," McLaughlin said.
Her father has taught her about the aspects surrounding the game, but never once mentioned soccer. He explained to her how important it is to be a good teammate and have a positive attitude.
"Both have played a huge role in my recruiting process, and my soccer career would probably be different if they weren't coaches and players themselves," McLaughlin said of her parents.
Regarding Xavier, McLaughlin loves the size and beautiful campus and loves how it is surrounded by the city of Cincinnati. McLaughlin can see herself having a future and finding a job in Ohio.