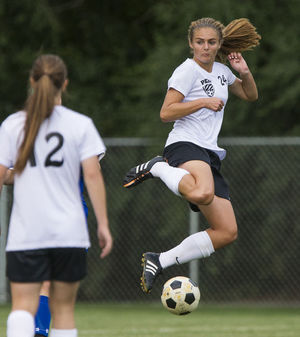 Interview with Kristina Lynch, varsity soccer player, Penn High School. Kristina Lynch has verbally committed to Florida State University, located in Tallahassee, Florida.
Kristina said she chose Florida State because of the "exceptional coaching staff, the elite players and competition, the high tech resources, and academics I was looking for, and it's beautiful location." 
Height: 5-foot-7
Weight: 132
Number: 24
Age: 16
Travel Team: Indy Fire Juniors ECNL (Indianapolis)
ECNL= Elite Clubs National League
Year: Sophomore
Pregame meal: Subway or Jimmy Johns, or chicken
Any Superstitions?
I always go out an hour early before games to practice shooting with my dad. I always put my right socks, shin guards, and shoes on first (if I don't, I have to take it all off and start over).
Best advice you ever received?
"If you want to be the best you have to out work all the rest"
"If you don't work at it…don't expect to be any good at it"
What was your best high school game?
Freshman year against Zionsville. Penn wasn't ranked very high and Zionsville was top team in the state. I started and played most of the game against a team of big juniors and seniors and scored the game winning goal from about 30 yards out. I got the ball and beat the defenders and shot it from far out and it was blasted into the upper right corner.
What are your deciding factors on which school to choose?
Education. (If I get injured is this a school that I will be happy at and get a good quality education)
Soccer. (what is the team ranked currently and previous years, are they consistently ranked in the top ten in the country)
Coaches- the coaches will be like your new parents in college; players going there with you, your future teammates
What scholarship offers did you receive?
Butler, Division 1 (Spring Break)

Notre Dame, Division 1 (Last week of summer)

Florida State, Division 1 (Last week of summer) -Committed-

Indiana, Division 1 (last week of summer)
Who and when was your first offer ever?
Butler, spring break 2015. I went there because they showed a lot of interest, club coach used to  coach there and told me they wanted me to come to their ID camp, after the ID camp they liked what they saw and had me come down for an overnight visit and tour of the campus the next morning they made the offer. 
Article by: Sam Padrnos