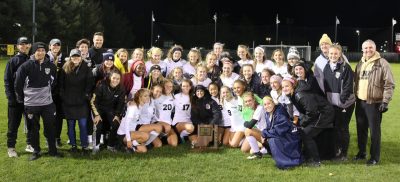 Sydney Domal delivered a lightning-strike goal with 30 seconds left in the South Bend Girls Soccer Regional Championship Game, giving Penn a stunning 2-1 victory against South Bend St. Joseph on Saturday, Oct. 19, 2019.
Penn beat Valparaiso, 2-1, in the first Regional match-up on Saturday, Oct. 19, to advance to the Championship Game.
The Regional Champion Penn Girls Soccer Team battles Noblesville Saturday, Oct. 26, at Kokomo Semi-state for a chance to reach the State Championship Game. The game is scheduled to start at 3 p.m.
St. Joe scored the first goal in the 28th minute, and then Olivia Kalil answered right back by scoring in the 29th minute of an assist by Kelsi Carrico.
Domal scored her stunner with 30 seconds left in the game off an assist from Grace Szklarek.
Penn beat Valparaiso in a shootout in the Regional opener. Kelsi Carrico scored off an assist from Olivia Khalil in the 23rd minute.
The score was tied at 1-1 going into overtime.
A shootout was then needed to determing the winner. The Kingsmen won 3-2 in the shootout. Kayla Leady, Sydney Egendoerfer and Grace Szklarek scored the goals in the shootout. Abbie Clay made two sensational saves to clinch the victory for Penn.