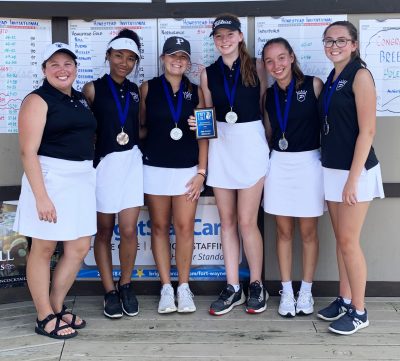 The Penn Girls Golf team looks to extend their season at the Penn Sectional Championship on Friday, Sept. 17, at Knollwood Country Club. Action is scheduled to start at 9 a.m.
The Kingsmen have won 12 consecutive Sectional Championships and 22 in program history.
Penn, coached by Katie Bella, enters the Sectional ranked No. 14 in the state. The Kingsmen won the Northern Indiana Conference Championship last week.
The Kingsmen have high hopes going into the state tournament.
Delaney Wade won medalist honors last week at the Northern Indiana Conference Tournament with a 70. Gillian Lippert, Meghan Mounts, Kenna Kelsey and Ella Peterson also helped the Kingsmen claim the NIC title.
"We all feel very confident going into Sectionals," Penn Senior Leader Meghan Mounts said. "We had a good regular season, and hope to continue that in our upcoming tournaments."
The top three teams from the Penn Sectional advance to the East Noble Regional, Friday, Sept. 24, at 9 a.m. at Noble Hawk Golf Club.