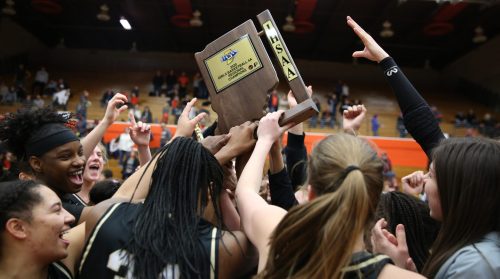 Penn High's Girls Basketball Team stunned No. 2 and unbeaten Crown Point, and then stormed past host LaPorte to claim the championship of the Class 4-A LaPorte Regional on Saturday, Feb. 15, 2020.
No. 6 Penn (27-2) advances to the LaPorte Semi-state and will play No. 1 Northwestern (28-0) at 4 p.m. on Saturday, Feb. 28, 2020, at LaPorte High School.
Penn avenged a 49-37 regular-season loss to Crown Point with a thrilling 42-41 victory in the Regional opener.
Trinity Clinton scored the game-winner for the Kingsmen on a driving lay-up with eight seconds left in the game.
Kaitlyn Costner led the Kingsmen with 16 points. Clinton finished with 12 points.
Clinton scored 20 points to help the Kingsmen power past LaPorte, 59-34, in the Regional Championship Game.
Costner scored 10 points, and Reganne Pate scored nine points.