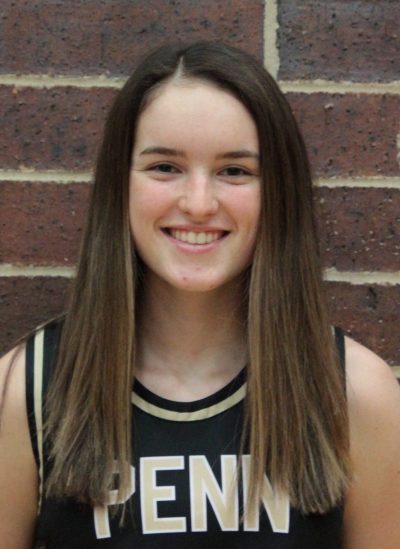 By JADA PATTON
Gracie Bobo, a 5-foot-10 senior shooter and a three-year varsity player for the Penn Girls Basketball team, has committed to Lawrence Tech University.
 Bobo has carved out a reputation as an outstanding team player and is highly regarded for her shooting skills. She's made tough shots when the team needs them and played key roles as the Kingsmen earned Northern Indiana Conference and Sectional Championships last season. Penn finished the 2020-2021 campaign with a 21-4 record.
"I chose LTU because I loved the school as a whole, and I loved the coaches and just the environment at the school," Bobo said.
Bobo said that Penn's program has helped her earn an opportunity to play college basketball.
"Penn Girls Basketball has helped me to be disciplined and has taught me to work hard on the court and in the classroom," Bobo said. "Coach (Ulrich) has helped me by instilling important lessons like time management, team work, and just working hard in general."
Penn Girls Basketball Head Coach Kristi Ulrich said that Lawrence Tech is getting a true winner in Gracie Bobo.
"Gracie is a driven and hardworking student athlete who is passionate about the game and her teammates," Ulrich said. "Gracie is a culture contributor and has really grown into a leader here at Penn.  She excels in the classroom, just like on the court.
"Gracie is a long lanky guard that has tremendous sharp shooting abilities," Ulrich added. "LTU's opponents will not be able to lose her on defense or she will make them pay from the outside."