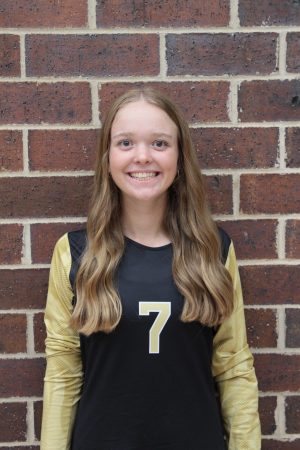 Get to Know Varsity Volleyball Player Peyton Rudge.
What do you love most about your sport?: I love volleyball because of my teammates and it is very competitive.
Do you have any pre-game rituals? If so, what are they?: I always braid my hair before the games.
What traits do you look for in a team leader?: I always look for someone who is loud and wants their teammates to succeed. A leader leads by example and does the right thing when nobody is watching.
What has been your favorite moment so far this season?: My favorite moment so far this season has been going out to eat before our home games.
What player at any level do you look up to most?: I don't have any specific athletes I look up to.
What are some personal or team goals you have as you continue your season?: This season I hope to win NIC and sectionals and continue to grow as a team.
What's it been like being a multi-sport athlete at Penn High School?: Being a multi-sport athlete at Penn is so fun because you have the chance to make connections with all your teammates and coaches.
If you could give one piece of advice to a freshman in Penn Athletics what would it be?: Make connections with your teammates because they will become your best friends and always work hard. Don't put too much pressure on yourself.
What's your favorite sports movie and why?: My favorite sports movie is "Remember the Titans".
What are your best tips for balancing school and athletics at Penn?: I make sure to stay on top of my assignments and ask my teachers for help.