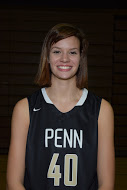 Name: Lindsay Chrise.
Class: Senior 2016.
Position: Center.
Uniform Number: 40.
Favorite Fire-Up Music: Taylor Swift.
Favorite Pig-Out Food: Oreos.
Ritual/Superstition: My nail polish color has been the same throughout the state run.
Favorite PGBB Memory: Dog-piling on the court after beating Homestead.
What I love about this team: We are all best friends and basically the same person.
College or Pro player I admire: E'twaun Moore.