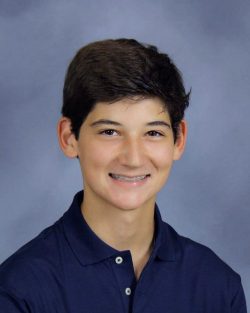 Cannon Cocquyt is a Senion on the Penn Hockey Team. He won the club's Hobey Baker Award for Leadership and Service.
How long have you been playing varsity hockey for?: I have been playing varsity hockey all four years. 
How long have you been the captain for and is it a lot of pressure?: I was the assistant Captain last year and the team has not voted on captains yet for this year. I wouldn't say it's a lot of pressure, because I have always enjoyed leadership roles and love being able to show the other guys what I have learned throughout my years of playing hockey.
What does offseason hockey mean for your recruiting?: It means a lot. Hockey is one of those sports that you can't really take a break, because if you do, you kind of lose your touch. I'm constantly staying on the ice and working on my game so that I can potentially receive looks from schools. I also play for Team Indiana and that allows me to receive some extra exposure. 
Is high school or travel hockey more important for college?: I think it depends on the level of hockey that you are playing on. For High School hockey we play in the highest tier meaning, we play all of the better schools for state (Carmel, Culver, etc.). We also compete in nationals, which allows for more competitive play. I also play travel just to play a little better competition and to work on my game a little bit. All in all it's about the same.
Do you want to take your hockey skills to the next level?: I would love to take my hockey skills to the next level. It's every kid's dream to play hockey as long as possible and that's still something that I want to make happen. I felt that I had a very productive Junior year making the All-Conference team along with putting up 30 points. As a defenseman.  I still feel I have more in the tank as far as my skill level goes and I'm excited to see where this season takes me. 
Who are the biggest rivals for the hockey team?: I would definitely say St Joe. , Zionsville, and Culver are some of our biggest rivals. We love playing these teams just because they tend to be more chippy and a more competitive game. 
Will the squad this year be a state contender?: We will 100 percent be a state contender this year. We have one of the best teams that I have ever been a part of and I'm very excited to see where our team goes this year. 
Who are some. players you think will show out this high school season?:  We have a very strong talented senior class this year and I think all of us are capable of big things. Some names that stick out to me would definitely be Keenan Donze, Ethan Matthews, Riley Planey, Jacob Renbarger, Avery Rivard and Avery Brown These guys are unreal at what they do. 
Has COVID-19 done anything to affect your hockey year so far?: Yes. Obviously, it affects everyone, but already we have had players including myself have to sit out two weeks due to contract tracing. It truly does stink but it has taught us all that we need to be more careful.