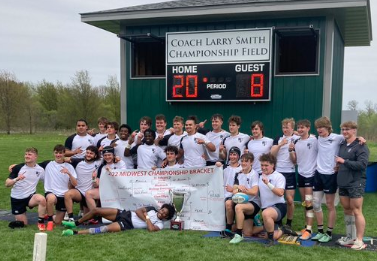 This past weekend was the Boys Rugby Midwest Championship, and Penn came out swinging. The Kingsmen won the Championship, defeating St. Edward's of Ohio, 20-8, in the Championship Match on Sunday, May 8, 2022.
Penn's Dylan Quimby was named the Man of the Match.
The Midwest Bracket is composed of some of the best teams in the Midwest.
Opening up against Fort Wayne Carroll, Penn started hot. Rolling to a 28-0 lead in the first half, the Kingsmen moved the ball swiftly and ran hard without hesitation, putting Carroll on their heels the entire match. Penn went off to finish against Carroll 48-0 to move on to the semifinal.
Against Avon, in the semifinal, the Kingsmen unleashed the same intensity. With an early penalty goal from Saeed Kiruu, the team used that energy and kept going. Some outstanding runs from Wallace Kennach, Stefano Sete, Evan Lowe and many others kept the boys moving forward with Avon having nothing to do. As Penn was wrapping up another shutout, Avon made a quick line break and scored the first try against Penn. Penn won the match by a 36-7 score.
On Sunday, Penn played in the championship against St. Edward's, a tough side with a strong defense. 
It didn't stop Penn.
After St. Edward's broke off and scored on a penalty kick, Penn fired back with two tries in the first half. One pack led by Junior Sam Sullivan, started the board off for Penn. Afterwards, Alec Hardict broke the line and gave a beautiful pass to set up Dylan Quimby for the next try. Saeed Kiruu also scored a penalty kick for a 13-8 halfime lead for Penn. In the second half, both sides put up great defenses. While breaking multiple tackles, Senior Evan Lowe takes off to score the final try, with an assist from Stefano Sete. Penn celebrated the title with the 20-8 victory.