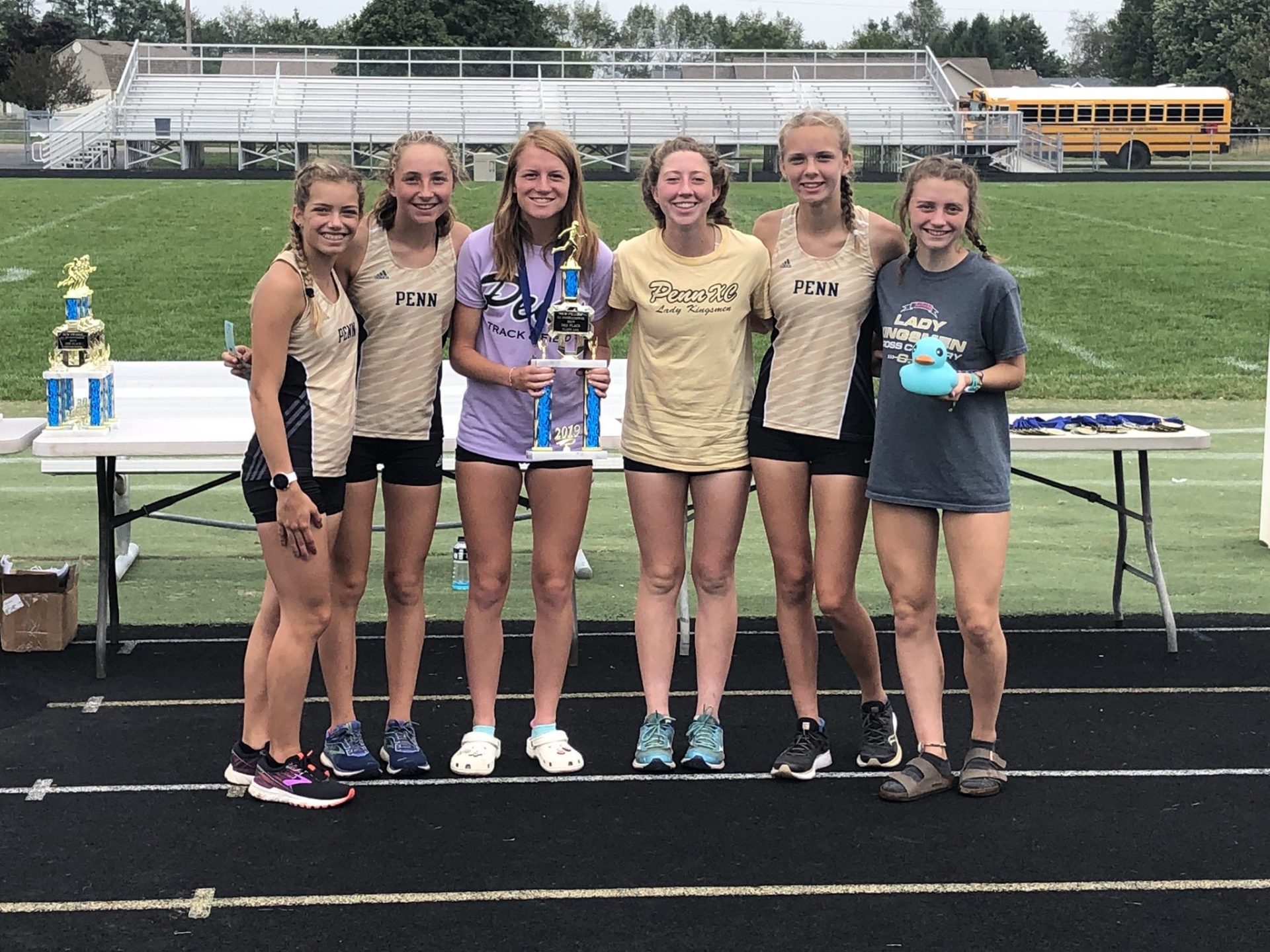 Sophomores Mariano Retzloff and Carter Kaser led the way to a Championship for the Penn Kingsmen in the Freshmen/Sophomore race at the prestigious New Prairie Invitational on Saturday, Sept. 21, 2019.
Retzloff placed first in the Freshmen/Sophomore race, and Kaser took second.
The Boys and Girls Cross Country teams raced in hot temperatures at the historic New Prairie Invitational. The Boys Cross Country Team ran in a race consisting of freshman and sophomores only and finished in first, the Boys Varsity team finished in eighth, and the Girls Varsity team finished in third place in their respective races.
The Boys team competed in a Freshman-Sophomore race and took first place. They finished with a low score of 42. Following the Kingsmen were Chesterton (117), Lake Central (121), Valparaiso (132), and Warsaw (143). Sophomores Mariano Retzloff and Carter Kaser placed first and second respectively with the times of 17:11 and 17:15. Jason Juarez came in fifth place with a time of 17:42 and Joey Rutten finished right behind him in sixth with a time of 17:46.
The Boys Varsity team placed eighth at the invitational with a score of 262. This race was restricted to juniors and seniors. Senior Joshua Temeles held the first position for the team and came in 29th place with a time of 17:18.
In the Boys Reserve Race, Senior Jaitin Soni came in fifth with a time of 18:26. There were no team scores for this race.
The Girls Varsity team placed third out of 32 teams with a score of 152.  The Lady Kingsmen, ranked No. 20, won victories against No. 19 Lake Central (178), No. 22 Northview (189), and No. 24 Chesterton (209). The team held out strong until the end despite running in temperatures reaching 81 degrees. Senior Brooke Neal followed closely behind the lead pack and finished in 13th with a time of 19:49. Her teammate, Morgan Gannon, also stayed close to the front and came in 20th, running the course in 20:32.
In the Girls Reserve Race, Junior Ava Gillis swept the competition and claimed her second win of the season. Gillis was the only runner out of the 360 competitors in the reserve race to run the course in under 21 minutes. Gillis ran the difficult 5K course in a time of 20:57. Another strong fighter for the Lady Kingsmen was Nikki Jerzak. She finished the race in 21:57 and placed 11th. There were no team scores for this race.
Coach Michael Clements commented: "I'm incredibly proud of the perseverance and mental fortitude it took to compete as aggressively as we did today given the conditions were among the hottest I've seen a race contested in during my 15 years of coaching."