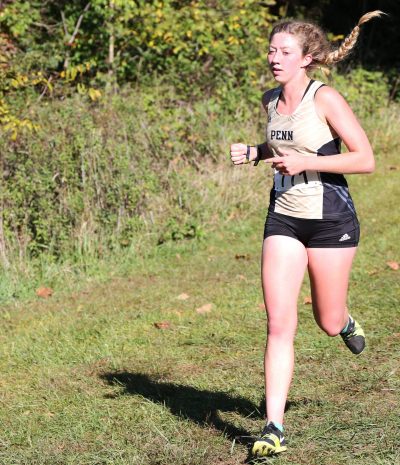 The Penn Boys and Girls Cross Country teams dominated at the County Clash at Ox Bow Park in Goshen on Saturday, Sept. 14. The Kingsmen swept the floor in all races with the varsity and junior varsity teams placing first.
The Boys Varsity team placed first with a score of 57. They were followed by Goshen (68), Mishawaka (147), Northridge (166), and Riley (169). Mariano Retzloff and Carter Kaser led the team, finishing within one second of each other. They placed fifth and sixth, respectively. Not far behind was Joshua Temeles in 13th, Jason Juarez in 16th, and Ben Boardley placing 17th.
The Boys JV team competed well at the meet finishing first with a score of 25. Trailing behind the Kingsmen were NorthWood (60), Elkhart Central (85), Riley (90), and Northridge (101). Josiah Railton came in strong with a first-place finish. Right behind him was teammates Killian Heninger in second and Taylor Cussen in third. Caleb Evans placed ninth and Nick Probst placed 10th.
The Girls Varsity also ran a strong race and placed first with a score of 44 and followed by Northridge (81), Elkhart Central (142), Elkhart Memorial (159), and Mishawaka (167). All five scorers for the team placed in the top 15. Brooke Neal and Morgan Gannon placed fifth and sixth, respectively, with both girls running the course in under 20 minutes. Mackenzie Holland came in eighth, with Aislynn Alkire placing behind her in 10th. Nicole Marshall finished in 15th.

The Girls Junior Varsity finished first with a perfect score of 15. The Lady Kingsmen overcame Goshen (69), Elkhart Central (85), Mishawaka (117), and Concord (135). The Lady Kingsmen had runners placing 1 through 8 at the meet. Kayla Edgerly led the pack and finished strong in first place. Right behind her was Cassidy Cripe in second, Katie Casbon placing third, Hannah Cussen in fourth, and Morgan Collins in fifth.