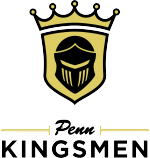 Senior Vince Sparrow (132) and Freshman A.J. Steenbeke (160) represented Penn at the 2020 IHSAA State Championships in Indianapolis on Friday, February 21, 2020.
Sparrow was defeated by Hunter Cottingham of Western, 6-4.
Sparrow finished his senior season with a 34-8 record and 20 points. He was 84-29 in his Kingsmen career. Sparrow was a two-time State Finalist for Penn. He won three sectional championships and two regional championships.
Steenbeke was defeated by Jed Perry of Southern Wells, 9-4.
Steenbeke, a Sectional Champion, finished his first season on the Kingsmen varsity with a 26-8 record and 19 pins.