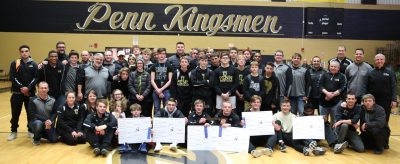 Coach Brad Harper's Penn Kingsmen Wrestling Team outdistanced arch-rival Mishawaka, 184-145.5, to capture its eighth consecutive Regional Championship on Saturday, Feb. 3.
Penn celebrated seven individual championships and advance 10 wrestlers to the East Chicago Semi-State on Saturday, Feb. 10.
Penn's Tanner DeMien pulled off a major upset in the 126-pound weight class by beating No. 9-ranked Braxton Alexander from Wawasee.
Preston Risner also pulled off a stunner in the 138 Championship bout. Risner defeated previously unbeaten Adam Davis of Culver Academy.
Kingsmen qualifiers:
113: Evan Light, 1st
120: Vince Sparrow, 1st
126: Tanner DeMein, 1st
132: Logan Hill, 4th
138: Preston Risner, 1st
160: Colin Wilson, 2nd
170: Noah Brown, 1st
182: Max Chaffee, 1st
195: Rockne Hurley, 1st
220: Adam Berta, 2nd