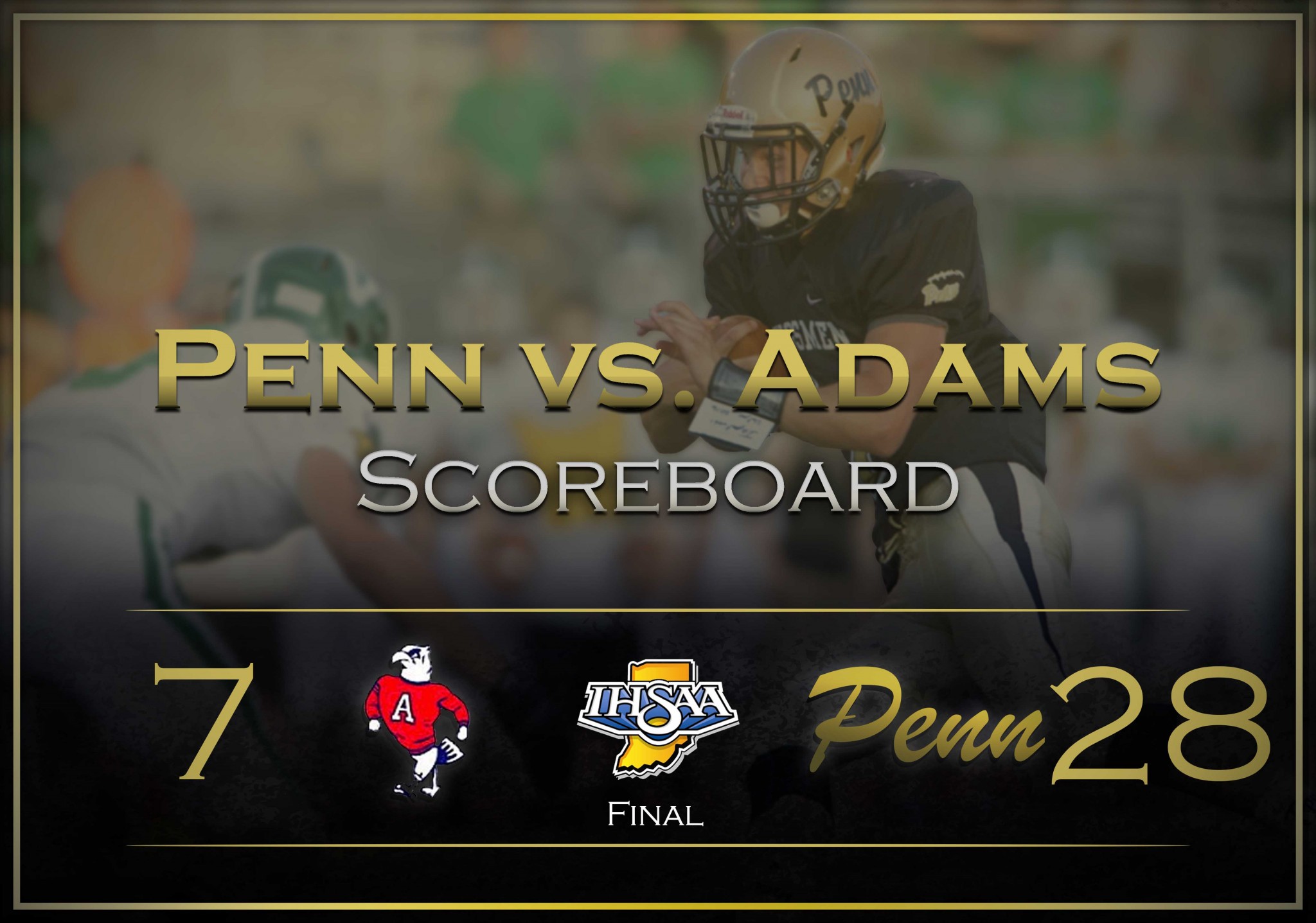 Adams High's offense entered their Northern Indiana Conference high school football game against Penn not having surrendered a quarterback sack in its first four games of the season.
By the time Penn's Wild Bunch defense was finished with the Adams offense, the Eagles were battered, bruised, and beaten, 28-7, on Friday, Sept. 16.
Penn slammed Adams for seven quarterback sacks, three by James Morris, and two each by Keegan Hurst and Connor Schneider.
Schneider, a 6-foot-4, 210-pound senior defensive end, also rocked the Eagles in the fourth quarter to force a fumble that he recovered.
Adams took a 7-0 lead in the second quarter, but sophomore speedster Ryan Whiteman sparked the Kingsmen with three carries for 29 yards to set up Penn's first scoring drive.
Senior Landon Martz finished off the scoring drive, slashing through the Eagles for a 30-yard TD run. Jarod Hancock's extra point made it 7-7, which ended up being the halftime score.
Penn quickly seized command in the second half.
The Kingsmen forced a punt on Adams' first possession.
Penn all-state candidate Paul Moala returned the punt 52 yards, breaking and spinning out of five tackles before sprinting into the end zone. The electrifying return gave Penn a 14-7 lead with 11:00 left in the third quarter.
Adams gambled by going for it on fourth-and-13 on its 22, and the Kingsmen broke up the pass attempt to give Penn possession.
Five plays later, Landon Martz scored his second touchdown, racing around the left end for a 4-yard TD. Hancock's extra-point kick gave the Kingsmen a 21-7 lead.
Adams failed on another fourth-down try, and this time the Kingsmen took over at the Eagles' 28.
Five plays later, Rashid Maclin delivered the dagger, a 14-yard TD run. Hancock kicked the extra point for the 28-7 Kingsmen lead.
Here are quotes from Penn hitman Connor Schneider:
Here are quotes from Penn coach Cory Yeoman: