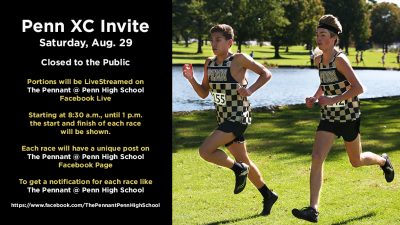 The Penn Cross Country Invitational on Saturday, Aug. 29, is closed to the Public.
Portions of the Penn Cross Country Invite will be streamed LIVE on The Pennant Facebook page, The Pennant @ Penn High School.
The camera will capture the start of each race, once all the runners have left the start, the camera will move to the finish line. All runners will be shown with the clock as they finish. There will be no audio.
The streams will begin at 8:30 a.m. with the boys varsity race and will conclude after the final race at approximately 1 p.m.
Each race stream will be its own unique post on Facebook. At the conclusion of each race the stream will be stopped. When the next race begins a new post will appear with a live stream of that event.
To get a notification every time a race goes Live, like The Pennant at Penn High School on Facebook at
https://www.facebook.com/ThePennantPennHighSchool