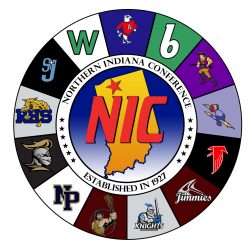 The Penn Kingsmen Tennis team traveled to Leeper park last Tuesday, Wednesday, and Saturday, to compete in the NIC Tournament. The Kingsmen went into the tournament hoping for success as the post season draws near.
On Tuesday, Penn started strong with a 6-0, 6-3 win from their third singles entry, Cole Pollyea, as well as a 6-0, 6-0 win from their second singles entry, A.J. Antonelli, in the first round.
On Wednesday, victories came from the No. 1 singles player, Mason Lee, and again the No. 2 singles player AJ Antonelli. Lee grinded out a tough three-set win over Elkhart Central, and Antonelli was able to breeze by Jimtown.
Penn's doubles teams of Tim Porsche and Thomas Gifford, and Tyler Styles and Edward Atkinson swept their two matches on Wednesday as well.
The semifinals and finals were then played on Saturday. Winning their final two matches, and securing first place finishes, were both of the doubles teams. Finishing second at No. 2 singles was Antonelli.
Senior captains and doubles partners, Tim Porsche and Thomas Gifford, look to lead the team deep into the post season following the success in the conference tournament. Sectionals are scheduled for this Wednesday and Thursday night. (September 30th and October 1st.) Penn will face South Bend Adams in the semi-finals on Wednesday at 4:30.
By: Stuart Feeley