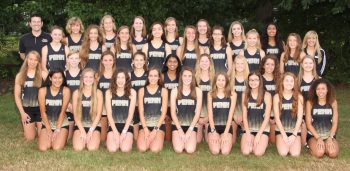 By CHANDLER NEAL
The Northern Indiana Conference Cross Country Championships will take place this Saturday on September 30, 2017, at Oxbow Park. The NIC Boys and Girls JV races will start at 9 a.m., followed by the varsity races, which start at 10:00 a.m.
The Penn Boys runners are looking to "three-peat" Saturday after being crowned champions for the last two years. The Lady Kingsmen runners are also looking to repeat after winning the championship last year. Both teams are looking to represent Penn by sweeping the competition this Saturday at the NIC Championship meet.
The Kingsmen runners are anxious to get on the course this Saturday as they look to win the championship for the third straight year.
"This is basically the beginning of the end for us seniors, so we're really just gonna go out there and give it our all," said senior runner Matt Long.
The Kingsmen know how important it is to represent Penn High School in this race and make a statement.
Senior leader Colton Shail said, "We really want to three-peat. Our goal is to get all seven varsity runners to make the NIC All-Conference teams and come out with a championship."
Shail placed second last year overall in the championship, and is looking to grab that first spot this weekend.
The Penn Girls Cross Country team is also looking to be crowned champions once again after winning it last year.
"This is going to be our last NIC race, and we are ready" said senior runner Dani Spring.
The girls are also striving to get as many runners as they can to make the NIC-All Conference teams, but at the same time, their main priority is winning it all.