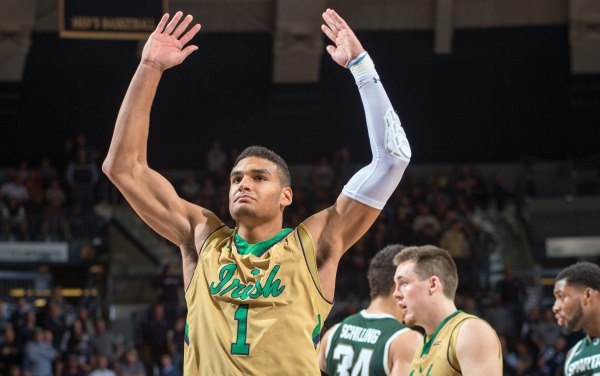 By Luke Bilotta and Parker Hart
Former Penn High School basketball star Austin Torres provided an electric presence in his redshirt freshman year as a men's basketball player at the University of Notre Dame. Notre Dame ended its 2014-2015 season with a 32-6 record, including a 14-4 in ACC play.
Coach Mike Brey's Irish captured the ACC tournament championship, and an elite eight berth in the NCAA March Madness tournament, far exceeding expectations prior to the start of the season in South Bend.
Torres did the little things for his team that fans and the scoreboard may not always notice, but his teammates and coaches understood how important his presence on and off the court was to the 2014-2015 success that Coach Mike Brey's team had. Austin helped spark the team when he came off the bench, gathering rebounds and setting key screens when his team needed to create space in order to attack the basket.
While not on the floor, Torres is his teammates' biggest fan on the bench, and does whatever Coach Brey asks of him. Torres embraces his role on the team, as he had always dreamt of being an athlete at the University of Notre Dame, as he had many generations of his family excel as students and athletes at such a prestigious university. Brey did not know what to expect when he offered Torres, as he had only seen him on a small scale as he was constantly chasing 4-star All-American recruit Demetrius Jackson throughout the AAU summer circuit.
Noticing how energetic and athletically gifted Austin was, the raw basketball player in Torres found Coach Brey's recruiting board and soon had earned a scholarship. Brey's eye as a recruiter has proved to be very good, as Torres has been exactly what he expected as a part of his basketball program. The coaching staff, Austin himself, and his teammates continue to work to make Austin the best he can be, as he is a major part of the success of Notre Dame men's basketball team and the program going forward.
Coach Brey said to expect the same thing from the Granger, Indiana, product this season in his press conference at Notre Dame Media Day. Torres echoed his coach when asked about his impact this season.
"I'm just going to try to do the same things as last year," Torres said. "Rebounding, layups, setting good screens, playing defense and just coming off the bench bringing that energy."
While Coach Brey speaks very highly of Torres, his teammates rave when asked about what impact Torres has on the team. They appreciate the hard work and dedication he exerts, as they feel he is a great teammate and representative of the team, the University, and the community.  
Senior Forward Zach Auguste praised Austin for his voice on the team and presence on the boards.
"Honestly I think he is going to be a great voice," Auguste said of Torres. "He's going to provide a lot of energy for us. He has continued to work and he's a great threat on the offensive glass and rebounding and running the floor. He's a very energetic guy and helps  lift up our spirits as well as a team."    
Auguste is a key voice in the locker room, as he is a returning starter from last year's run. Having heard these strong feelings surrounding Torres from Auguste, they highlight on the man Torres has become from his time at Penn High School and now at Notre Dame.
Torres credits Penn Basketball Coach Al Rhodes and Strength and Conditioning Coach Brad Rhodes for his success in a rather smooth transition from high school to college.
"Coach Al Rhodes and Brad Rhodes also really helped me develop being a leader and being that person on the team that somebody has to count on having a voice and it's really carried over here at the university," Torres said.
Torres and his teammates understand how successful last season was, but they're ready to move on, get better, and make it deeper into the tournament this year. After Mike Brey's media day press conference, it was evident that he, his staff, his players, and this program are hungry for more. Torres is no exception, as he worked extremely hard this off-season to better himself and take his basketball skill set and game to the next level.
Torres told The Pennant that his main focus this off-season was to be a more rounded basketball player starting with ball handling.
"Definitely my ball handling. Some of that and then some defense, rebounding, and also getting stronger and in better shape. The things that don't really show up when you're on the basketball court, but those are some things I tried to develop this offseason."
Torres suffered an injury in practice recently, but hopes to be back soon. The Fighting Irish will tip off their season on Friday, October 30, in an exhibition game against St. Francis at Purcell Pavilion.
Photo courtesy und.com