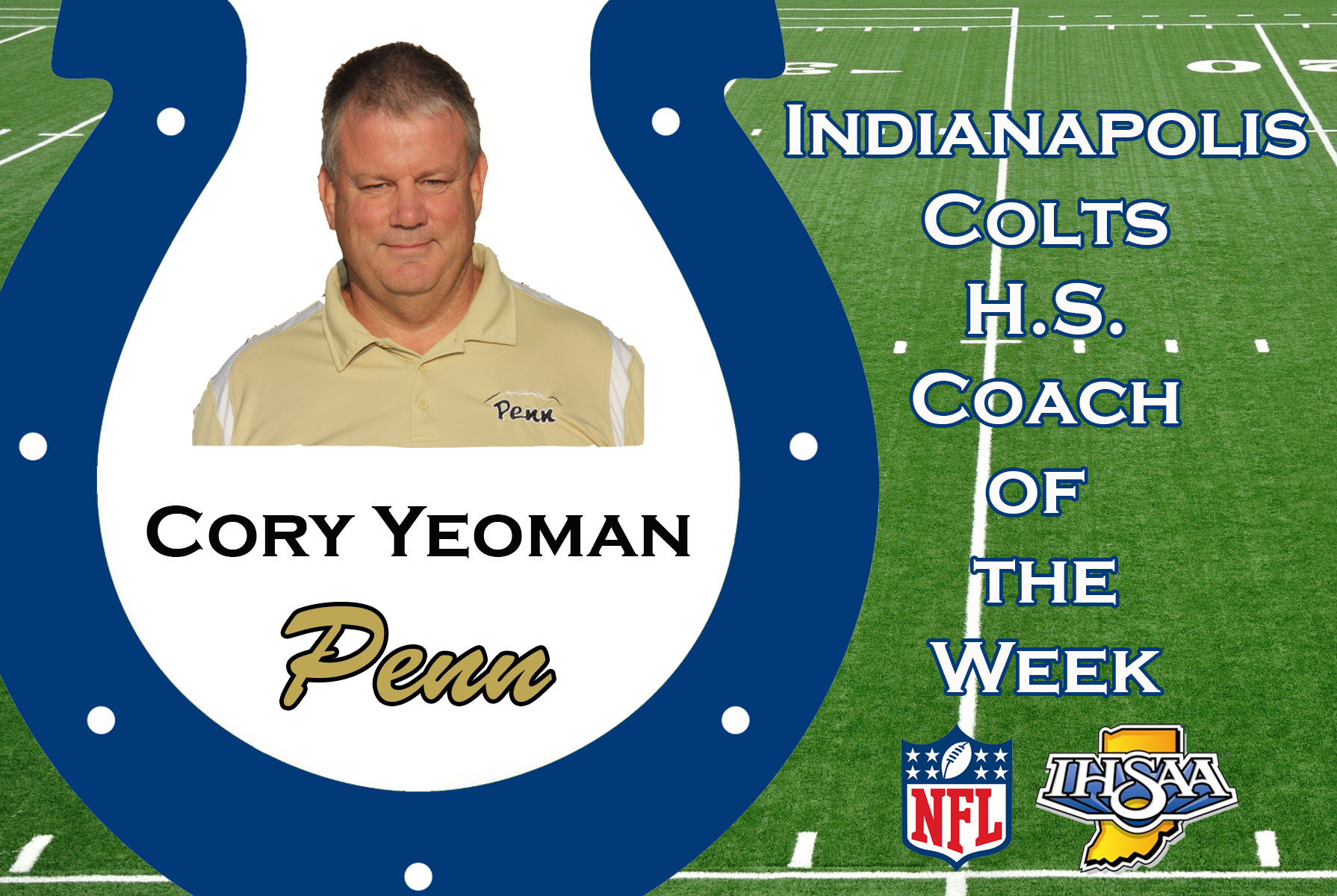 Penn High School head football coach Cory Yeoman has been named the Indianapolis Colts High School Football Coach of the Week, following the Kingsmen's 10-7 victory on Friday, Sept. 9, against MaxPreps No. 4-ranked team in the state of Michigan, defending state champion Orchard Lake St. Mary's.
The Class 6-A No. 3 Kingsmen are 4-0 this season, overcome great adversity against significant injuries to key players.
All of the 2016 winners will be honored at a Colts practice visit, and an on-field ceremony at an Indianapolis Colts home game. Each winning coach will also be presented with a certificate, as well as a $2,000 check for their school's football program. Each award is made possible through a $1,000 contribution from both NFL Foundation and Anthem Blue Cross and Blue Shield.
Yeoman has a 146-29 record in his 14th season as the Kingsmen head coach. He has guided Penn to semistate titles in 2015, 2011 and 2003. The Kingsmen have won seven regional crowns under Yeoman's guidance, eight sectional titles and 11 Northern Indiana Conference championships.
Coach Yeoman played at Penn High School, earning all-state honors at defensive tackle. In 1979, coach Yeoman led a Kingsmen defense that only allowed 33 yards rushing a game. He graduated from Penn in 1980. Coach Yeoman is in the Indiana Football Hall of Fame, the first Penn player nominated for the Hall.
After his playing career at Penn, coach Yeoman played for Miami (Ohio) University.
Coach Yeoman has served as an assistant or head coach with Penn football for 34 seasons.
The Indianapolis Colts and Anthem Blue Cross and Blue Shield sponsor the program. Coaches are evaluated on various factors including the coach's impact on his team, school and community, as well as performance of the team. The honorees are selected by a panel of high school football media, former athletic directors and other football representatives from all regions of the State.