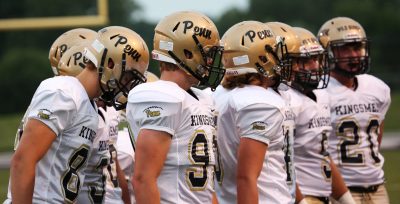 Penn High School will recognize more than 60 years of Kingsmen Football Alumni during the remaining 2018-19 home football games at TCU Freed Field. The recognition extends free admission on the designated nights below to all football program alumni including players, cheerleaders, athletic trainers, student managers, band members, coaches, and administrators by signing in at the Larry Beehler Ticket Center. The first recognition will take place at halftime on Friday, Aug. 31.

Aug. 31st

, Penn vs. Brother Rice (MI). Participants from the 1950's, 1960's and 1970's.

Sept. 21st

, Penn vs. St. Joseph. Participants from the 1980's and 1990's

Sept. 28th

, Penn vs. New Prairie. Participants from the 2000's

Oct. 12th

, Penn vs. Mishawaka. Participants from the 2010's to present day
  All alumni and community members are also invited to the Community Tailgate on 

Friday, August 31st

, which will take place from 

5:30 to 7 p.m.

, prior to the start of the 

7 p.m.

 game. The tailgate will take place in the beautiful new plaza picnic area at the South End of TCU Freed Field. Attendees may purchase a meal that includes a bratwurst or hot dog, potato chips, cookie, and a drink for only $4.00.

Any community member who purchases the Penn football book 'A Crowning Achievement: A History of Penn Football' the night of a home game will receive free admission to the game. Books will be sold on site prior and during the games for $30. 'A Crowning Achievement' is a yearbook style collection that chronicles the Kingsmen football program and coaching greats Chris Geesman and Cory Yeoman. The book is in partnership with the Penn Athletic Department and the P-H-M Education Foundation. For more information contact the Penn Athletic Department at 574-258-9574.