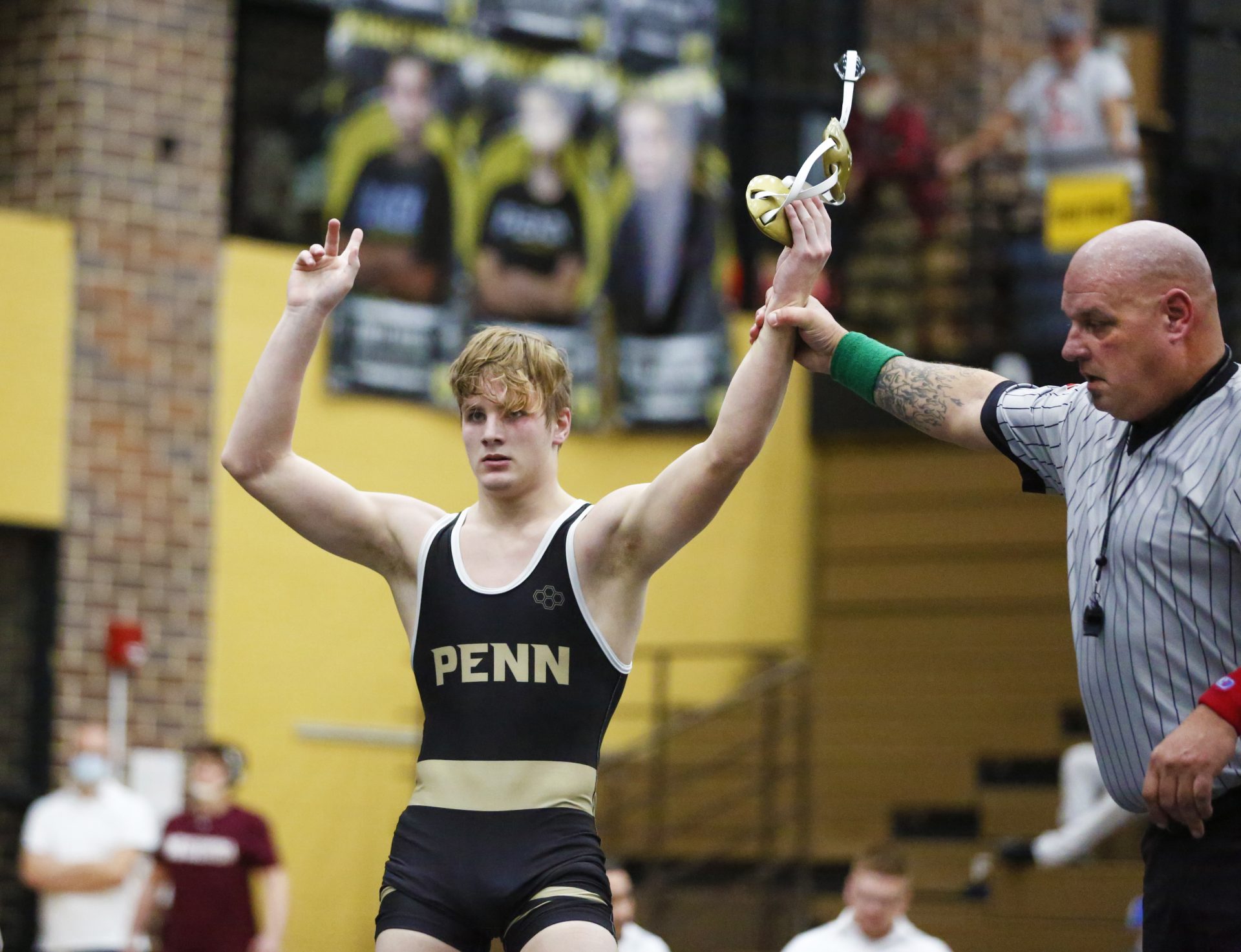 The Penn Boys Wrestling Team won at Elkhart by a commanding 59 and 1/2 points from the 2nd place team Elkhart, who finished with 243 total points.
Big factors in Penn's victory were Ryann Schmidtendorff, Dylan Bennett,  AJ Steenbeke, Zymarion Hollyfield, and Vinny Freeman who all had wins in the championship round.
Ryann Schmidtendorff had one of the biggest margins of victory by defeating Glenn's Brody King thirteen to four. Schmidtendorff says he is ready for the Sectional and that this run is just getting started.
"Everyone in the room at practice has been working their tails off for this weekend and we will be happy to see how everyone performs. This is just the beginning of a state run," Schmidtendorff said.
In the 120 pound weight class, Penn's Dylan Bennett pinned Glenn's Walter Drews in just 47 seconds.
In the 160 pound weight class, Penn's AJ Steenbeke had a close match with Jimtown's Conner Watts but pulled it out four to three
In the 170 pound weight class, Penn's Zymarion Hollyfield defeated Elkhart's Ethan Freedline seven to five.
Last but not least in the 182 pound weight class, Vinny Freeman dismantled Elkhart's Kaulin Prince by a score of nine to one.
For third place, in the 195 pound weight class,  Josiah Williams beat Glenn's Ayden Smigielski five to three.
Head Coach Brad Harper feels very confident about the Sectional on Jan. 28th.
"Our team will be ready for the 28th and beyond," Harper said.
The Sectional will be on Saturday, Jan. 28th at Mishawaka High School where Penn hopes to claim their first Sectional Championship since 2019.