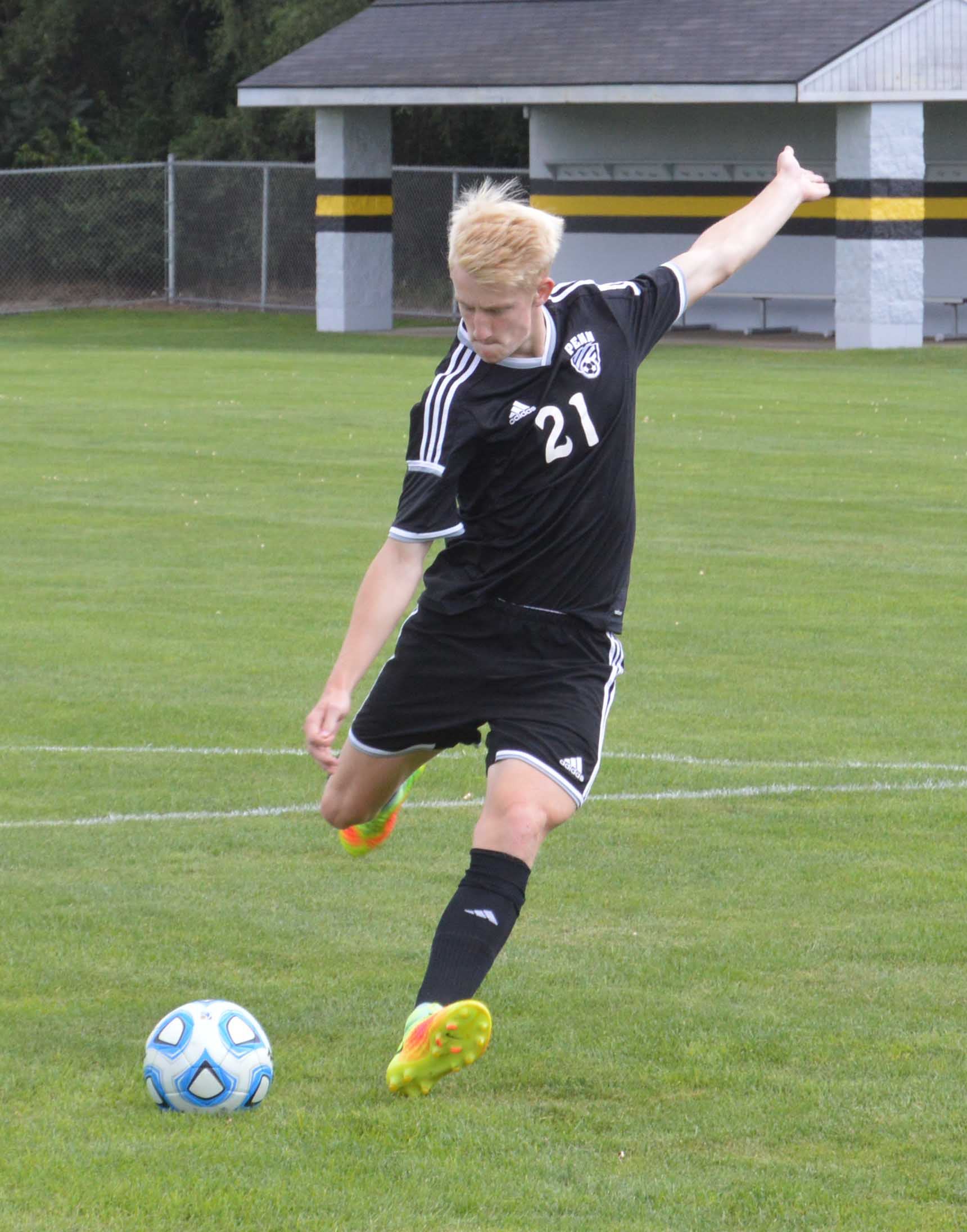 By MASON PLUMMER

Penn Boys Soccer senior Drew Fulmer led the backline for the first three years of his Penn career, and did a very good job at it. Now he is leading the frontline, and the Kingsmen have been striking gold so far.
Fulmer scored three goals in 21 games last season. This season, he's struck for seven goals in 11 games. Fulmer's success at striker has been a big reason the Kingsmen are unbeaten — 9-0-2.
That's a big change for Fulmer, as he has never played striker before, but Penn head coach Josh Nakayama noticed the qualities in him that would fit his striker role perfectly in the system that Penn likes to play.
"All through my soccer career, I've been moved from position to position, filling a spot that needed to be filled," Fulmer said about changing roles. "It has just become normal for me at this point."
Fulmer has made the transition very well. While Fulmer has been very good at getting scrappy goals in his Penn career, now he specializes in it.
When you look at Penn's No. 21, one of the first things you notice is his crazy, unorthodox haircut — a mohawk-mullet style.
"Brek Shea, a professional soccer player, used to have a mohawk mullet and him being one of my favorite players, I thought it was really awesome," Fulmer said. "I use my hair as a way to mix things up for me, and as a way to be remembered by people."
Fulmer may be noticed for his hair at first, but now he is being noticed for his goal-scoring prowess.
Fulmer was a big part of Penn's semi-state run last season, and he is going to have to be a huge part of this season, and postseason, for Penn to replicate how well they did last season.
When asked about how far he thinks the Kingsmen can go, Fulmer said, "I think we have even more talent and more potential than the year before. If we don't make semi-state finals again, it will be surprise for me and the rest of the team. State finals are our expectations this year."
"I've never been so comfortable and happy with a group of players around me, and that's what makes this group so special," Fulmer said. "There is so much talent and skill around me and it's incredible to be apart of something like this."
Fulmer also talked about being a role model for the younger guys, and that he is proud to be on the frontline of this team.
Sophomore teammate Alex Karamitsos said that Fulmer is a selfless player.
"Drew isn't selfish, he knows when to take the ball, and when to pass it," Karamitsos said. "He's a great role model for me and the younger guys. He has really quick feet, and he is hard to stop once he gets going."
Fulmer is looking forward to playing in college, after this last state-title campaign comes to a close. He is looking at North Carolina Wilmington, North Carolina Asheville, and Chowan University.