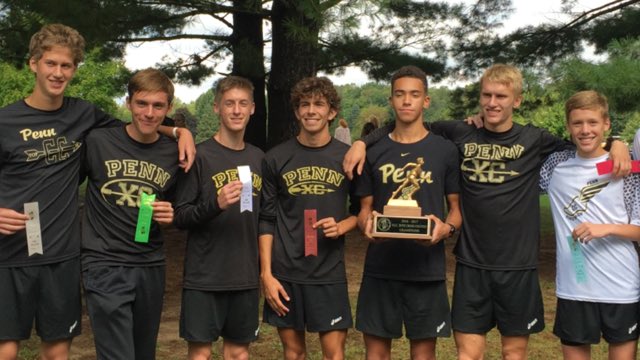 Penn dominated the Northern Indiana Conference Boys Cross Country Championships, capturing the first three places in the individual race, and six in the Top 10 as the Kingsmen captured the NIC title with a score of 19 points. Mishawaka placed second with 80 points, and Riley was third in the 13-team meet with 91 points.
Penn's Jonathan Harley won the individual championship, placing first in 16:30.613.
Colton Shail of the Kingsmen was second in 16:51.436.
Chad Piatt placed third in 16:57.533.
Next in the Penn Pack were Nick Scheel (fifth, 16:58.983), Reis Kennedy (eighth, 17:12.060); Matt Long (ninth, 17:12.280), and Curtis Cornell (12th, 17:17.803).
Penn also won the JV race, and Kingsmen runner Chandler Neal was the individual champion with a time of 17:39.386.
Other top runners for Penn were Nick Sergeant (second, 18:03.470), David Obert (fourth, 18:26.986), Noah Cocquyt (fifth, 18:27.830), Vishal Patel (eighth, 18:43.503), Zac Hall (12th, 18:57.116), and Tommy Rzeszutko (13th, 19:06.770).