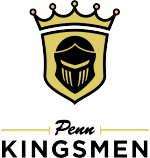 By ELIJAH HONESTY
Coach Al Rhodes and the Penn Kingsmen Boys Basketball Varsity Team geared up for the 2017-18 season with a multitude of summer activities. You could find these Kingsmen Student-Athletes participating in team and individual practices, training camps, and battling in tournaments.
IHSAA by-laws allowed players to practice with Coach Roads starting on May 30 and going on through July 30.
Players developed their skills and physical stamina, and during one week of the summer, players were counselors/mentors for the Penn Basketball Camp. This camp is a skill-based camp intended for boys in grades 4-8. In August, the Kingsmen did individual workouts at their own workout places to work out a few kinks.
Penn players participated in tournaments at Bethel College, Indiana State, and Indiana Wesleyan. They went undefeated at Bethel College, and the Kingsmen were 4-0 in the Indiana State tournament.
Penn guard Drew Lutz said that the Kingsmen gained a lot with the summer work.
¨For being juniors this year, we have grown up since we played on the winter Varsity team," Lutz said. ¨We can shoot better and we now make the extra pass, which helps us finish stronger. Our defensive pressure has also improved this year.¨
Penn coach Al Rhodes also said that the Kingsmen grew up in the summer.
¨The most improved players are the seven veterans from last year's Varsity team, but we are still not entirely sure of what the team will look like for until the next season starts,¨ Rhodes said.