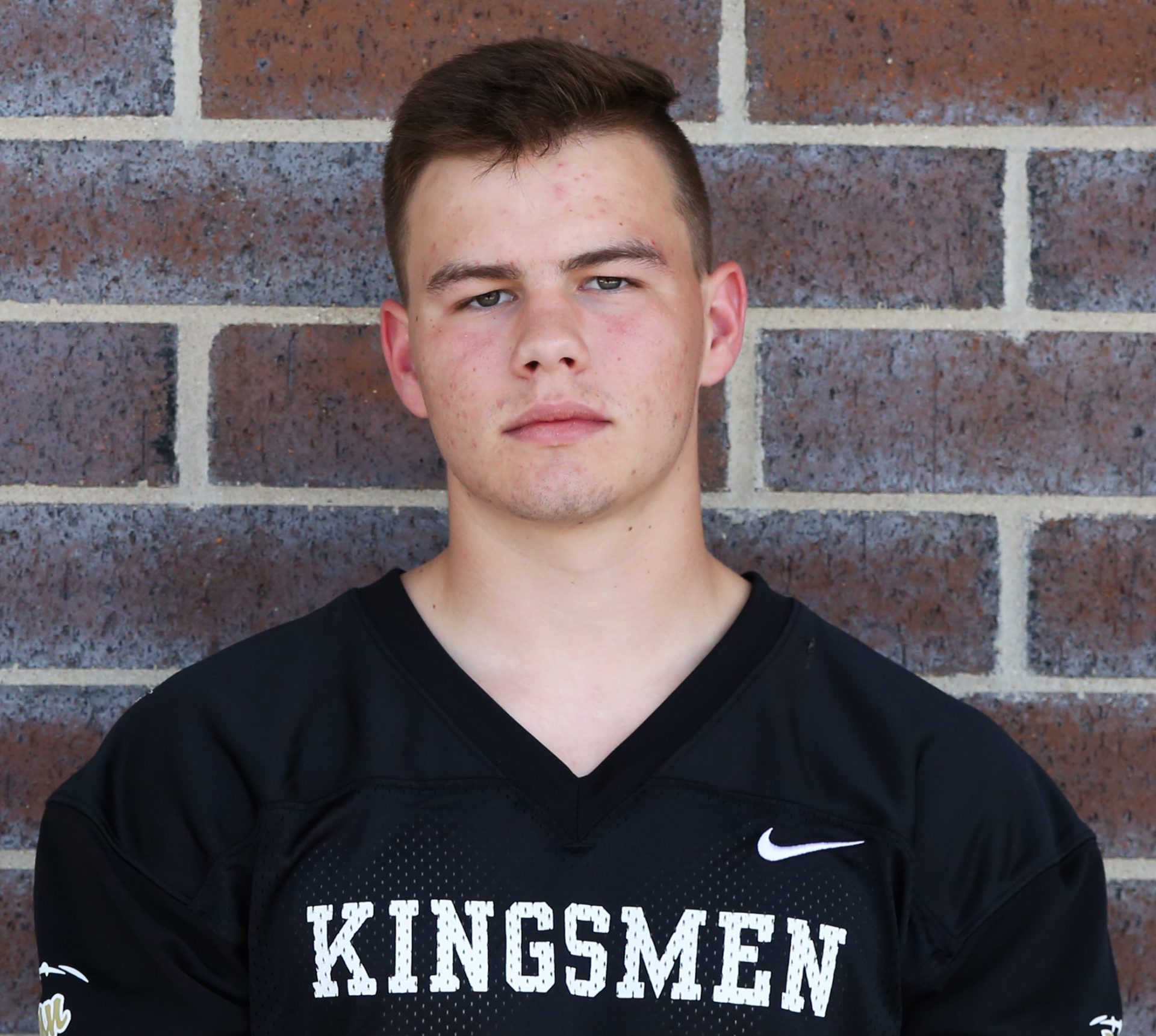 It is a leader's legacy – putting the team first, picking up a teammate, looking out for his younger teammates.
Lucas Small, a running back his whole high school football career, faced the 2019 season with a challenge – switch to linebacker.
"It's been tough," Small said. "Moving to a new position your senior year isn't easy."
Small (5-foot-11, 175 pounds) tackled the challenge of changing positions full force. He accepted the challenge with enthusiasm, and pride.
It's what a leader does.
And when the coaching staff needed Small to switch back to running back in Game 6, he did with the passion he brings to every practice and every game.
"The team comes first," Small said. "Wherever the team needs help, that's where I'll be."
Small caught on to defense quickly and earned a starting role in the linebacker corps for the season opener.
"My coaches and teammates have been very supportive and patient with me," Small said.
From the start, Small had the pure physical ability to play linebacker, but it was more of a mental standpoint that he had to adapt to switching to the linebacker position.
A lot of that mental help came from Assistant Coach Todd Yeoman.
"Coach Todd has been great," Small said. "He's such an amazing coach who is always patient and supportive."
After starting five games at linebacker, Small gained defensive insights that he now uses as a running back.
"When it comes to blitz pick-ups, I'm more keenly aware of that when I'm back at running back, seeing the postures of linebackers and how they're going attack," Small said. "Because every defender has a responsibility, I'm able to exploit that at RB and knowing how to counter-punch and make a cut away from their assignment."
Small likes the way the Kingsmen have forged a special toughness through fierce battles against a power-packed schedule.
"Through the hard games we played, we came together," Small said. "We realize that we can play with these teams. If we're enthusiastic for each other, that will help us succeed in the playoff run."
Small, who is a leader on Penn's Student-Athlete Leadership Council, sets the gold standard for leadership on the Kingsmen Football Team.
"I see one of my responsibilities as being able to pick guys up when they're not having their best practice, as well as being able to lead by example or vocally lead on how practice needs to be run," Small said. "I think it's important for the (Senior Leaders) to make sure everybody has the right mentally and is energized for practice and games."
Junior Tight End Casey Shultz said that Small has the respect of his teammates.
"Lucas treats the underclassmen with respect," Small said. "His work ethic is outstanding. I appreciate that he has a positive attitude and never gets on other people. He's always lifting people up. He's willing to do what he needs to do to win."
And while the lights on the scoreboard will change in seasons to come, Lucas Small's impact on Kingsmen football will last.