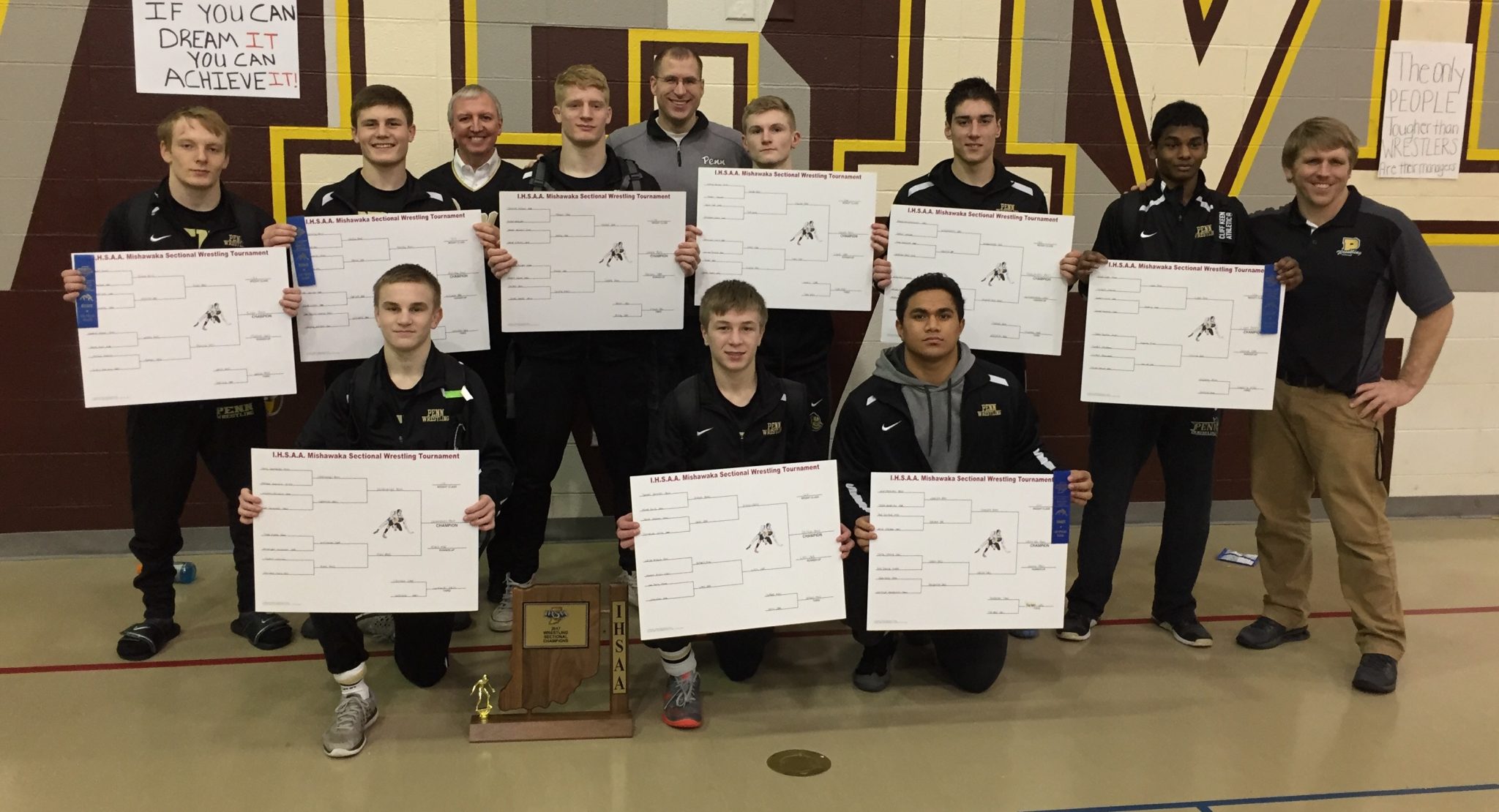 Coach Brad Harper's Penn Boys Wrestling team won its seventh consecutive Sectional championship on Saturday, Feb. 3.
Nine Kingsmen captured individual Sectional championships.
Seniors Kory Cavanaugh (113) and Jarod Swank (170) became only the eighth and ninth three-time Sectional champions in Penn history.
No. 4-ranked Cavanaugh stuck Brendon Mark of Mishawaka in 1:21 in the championship round.
Swank, ranked No. 6, won a colossal battle against No. 5 Tavonte Malone of South Bend Adams, posting a 6-2 decision.
Junior Tanner DeMien rolled through the 120 competition with three pins to win the championship. Ranked No. 10 in Indiana, DeMien also became a three-time Sectional champion. He won his first two Sectional crowns at NorthWood.
Evan White (106), Jeffrey Harper (126), Haden Hensley (145), Dustin Hochstedler (195) and Will Vakalahi (220) also walked off the mat as Sectional champions.
Penn's Sectional champions, runners-up Trace Manspeaker (138), Rockne Hurley (160) and Max Chaffee (182), along with third-place Noah Brown (152) and fourth place Hezzy DeVault (220) advance to the Regional championships on Saturday at Rochester (9 a.m. start).
Penn is the only school in the Rochester Regional to advance all 14 wrestlers.
The Kingsmen will be taking aim at a seventh consecutive Regional championship.
106: Evan Light (Penn) dec. Trevor Penrod (Riley), 6-3.
113: Kory Cavanaugh (Penn) pinned Brendon Mark (Mishawaka), 1:21.
120: Tanner DeMien (Penn) pinned Joey Zahl (Adams), 2:10.
126: Jeffrey Harper (Penn) pinned Dominique Clark (Adams), 1:23.
132: Preston Risner (Penn) dec. Tristin Moreno (St. Joseph), 10-6.
138: Jacob LaPlace (Mishawaka) dec. Trace Manspeaker (Penn), 3-2.
145: Haden Hensley (Penn) pinned Jeremy Williams (Washington), 2:49.
152: Kassius Breathitt (Riley) pinned Joseph Walker (Mishawaka), 1:56.
160: Jacob Atkins (Riley) dec. Rockne Hurley (Penn), 7-3.
170: Jarod Swank (Penn) dec. Tavonte Malone (Adams), 6-2.
182: Austin Faulkner (Mishawaka) dec. Max Chaffee (Penn), 7-4.
195: Dustin Hochstedler (Penn) dec. Aaron Willamowski (St. Joseph), 9-4.
220: Will Vakalahi (Penn) pinned Casey Conery (St. Joseph), 1:44.
285: Isaiah McWilliams (Washington) dec. Alex Faulkner (Mishawaka), 11-5.
106: Dylan Fogarty (Mishawaka) pinned Juwan Dockey (Washington) 2:26. 113: Matt Cysewski (St. Joseph) dec. Vincent Calhoun (Adams), 6-1. 120: Carlos DeFault (Mishawaka) pinned Terrance Jones (Riley), 3:48. 126: Taylor Taft (Mishawaka) dec. Droshawn Lewis (Riley), 7-4. 132: Gabriel Weeks (Mishawaka) pinned Kamden Goering (Riley), 2:32. 138: jared Kazmierczak (St. Joseph) pinned Jessiah Marsh (Riley), 3:50. 145: Carl Horvath (Riley) pinned Phillip Moses (Clay), 2:25. 152: Noah Brown (Penn) pinned John Loftus (Washington), 0:42. 160: Donya Harris (Washington) pinned Colin Fee (Mishawaka), 2:53. 170: Amere Dozier (Clay) dec. David Sheley (Riley), 9-4. 182: Chizzell Crawford (Adams) pinned Chaz Shabazz (Clay), 4:08. 195: Jonathan Thomas (Adams) pinned Seth Kasznia (Riley), 2:41. 220: Jared Horban (Clay) dec. Lorenzo Henderson (Washington), 3-2 in 2OT. 285: Juan Galindo (Clay) dec. Yehezquel DeVault (Penn), 7-2.