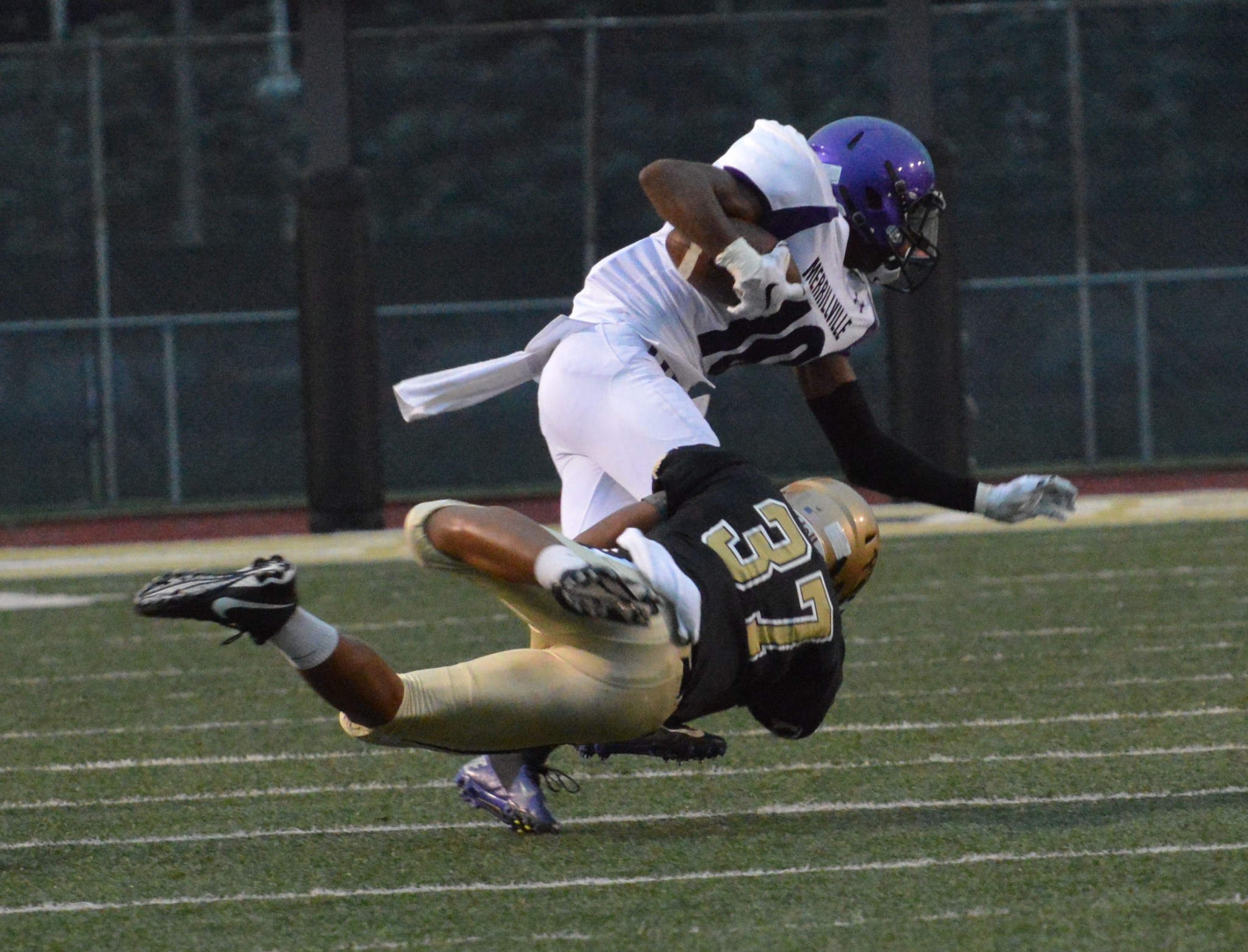 Penn High School junior Paul Moala, a 6-foot-1, 190-pound defensive back, earned first-team All-State honors by the Associated Press, and was named to the Indiana Football Coaches Association Top 50 player list
Moala intercepted seven passes and returned four of them for touchdowns.  He also scored two touchdowns on punt returns and one touchdown on a kickoff return. Moala broke up nine passes, caused two fumbles, recovered one fumble, and blocked three kicks. He made 40 tackles and had 23 assists.
Three Penn players – wide receiver Matt Kominkiewicz, defensive tackle Keegan Hurst and linebacker Will Vakalahi were named to the IFCA Class 6-A team, and five Kingsmen – Kominkiewicz, tight end Anthony Torres, offensive lineman Mike Dhuivetter, defensive linemen Nate Boone and Keegan Hurst, and Vakalahi were named were named honorable mention All-State by the AP.
Paul Moala, DB
6-1, 190, Jr.
Intercepted 7 passes, returned 4 interceptions for TDs. Also scored 2 TDs on punt returns and 1 TD on a kickoff return. Broke up 9 passes. Caused 2 fumbles, recovered 1 fumble, blocked 3 kicks. Made 40 tackles and 23 assists.
Mike Dhuivetter, OL
6-4, 335, Sr.
Key force on a team that gained  2,059 yards rushing (28 TDs) and 1,181 yards receiving (12 TDs).
Anthony Torres, TE
6-5, 235, Jr.
Exceptional blocker. Caught 11 passes for 195 yards (average 17.7 yards a catch). Scored 1 TD. Being recruited by most Big Ten schools.
Matt Kominkiewicz, WR
5-8, 165, Sr.
Caught 36 passes for 545 yards (15.1 yards a catch). Scored 9 TDs receiving. Also scored 4 TDs on punt returns and 1 TD on a kickoff return.
Will Vakalahi, LB
5-10, 220, Sr.
Made 6 TFL and had 2 QB pressures. Broke up 2 passes. Made 61 primary tackles and 29 assists.
Keegan Hurst, DL
6-2, 245, Sr.
Named Academic All-State. Had 18 primary tackles and 15 assists. Accounted for 4 sacks, 5 tackles for loss, and forced 2 fumbles.