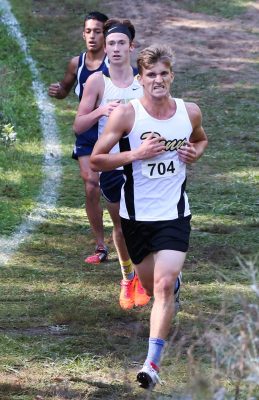 This past weekend both the boys and girls cross country teams ran their way to Northern Indiana Conference titles.  Their victories are huge accomplishments and both teams raced very well, with many runners achieving personal best times.
BOYS XC:  
Despite the fact that all of the Kingsmen's top scoring runners last year were seniors who led the team to multiple dominant Conference Championships during their tenure with the team, this year's young squad got the job done.
The Kingsmen pack of runners started the race behind a lot of the opposing teams, however, throughout the race they moved together, passing runner, after runner, after runner.  At the three-kilometer mark, they made their decisive move, taking control of the race as a team.
In the end, all five scoring runners finished just 15 seconds apart, which led to their victory.  Mariano Retzloff and Dylan Pottschmidt led the charge for Penn.  Retzloff placed 6th overall in a time of 16:44.67 with Pottschmidt hot on his heels, finishing with a time of 16:44.89, placing 7th.  Senior Noah Cocquyt placed 11th overall in a time of 16:54.58.  Romeo Gonzalez placed fourth for the Kingsmen, and 11th overall with a time of 16:55.82.  Sophomore Jacob Meek came in 15th place with a time of 16.59.64.  Josh Temeles ran a time of 17:18.64, which earned him a 21st place overall finish in the race.  Ben Boardley placed 25th in a time of 17:35.51.
The Kingsmen won by 13 points (51-64), edging out New Prairie and Riley who placed 2nd and 3rd place respectively.
Mariano Retzloff and Dylan Pottschmidt both received first team all-conference honors.  Noah Cocquyt and Romeo Gonzalez received 2nd team all-conference awards.  Jacob Meek and Joshua Temeles both made the NIC honorable mention list.
While the varsity race was close for the boys, the Kingsmen's outstanding team depth was on full display in the JV race.
Penn Freshman Joey Rutten claimed the individual time in a time of 17:29.57.  He was followed by a stampede of Penn runners, starting with Junior Cohl Fox who ran a 17:35.87.  Jatin Soni followed him third place with a time of 17:37.69.  In fourth was Carter Kaser who clocked in at 17:38.71.  In 5th overall was Avery Richardson whose time was a 17:42.27.  David Obert and Tommy Rzeszutko finished 6th and 7th respectively, with both of them running an identical 18:02.27.
The Kingsmen had all of the top 7 finishers in the race, and they got a perfect score of 15.
GIRLS XC:
The Girls won the team title in dominant fashion, as was expected, being the favorites to win the conference all year.
Junior Brooke Neal led with a 2nd place finish in a time of 19:06.35.  She was followed closely by teammate Ellie Jankowski who ran a 19:10.57 who ended up in 3rd place.  Aislynn Alkire ran a 19:29.21, which was good enough for a 5th finish.  Nourra Miss came 7th overall with a time of 20:13.79.  Mackenzie Holland followed right behind in 20:16.06, coming in 8th in the race.  Sophomore Haley Makowski followed closely in 9th place with a time of 20:17.44.  Morgan Gannon finished 11th overall in 20:32.35.
The Girls team scored 25 points, defeating Mishawaka High School who scored 63.
Brooke Neal, Ellie Jankowski, Aislynn Alkire, and Nourra Miss dominated the NIC 1st list.  Mackenzie Holland, Haley Makowski, and Morgan Gannon earned 2nd team All-NIC honors.
The elite performance of Penn Cross Country was showcased in the Girls JV race as well.
Nicole Marshall won the individual title in a time of 20:51.28.  Kayla Edgerly finished 2nd overall in 20:56.72.  Katie Casbon finished in 3rd overall with a 20:58.71.  In 4th was Anne Loughran who ran a 21:00.43.  Reagan Hoke ran a 21:04.13, placing 5th overall.  In 6th was Senior Stella DiMarzo who finished in a time of 21:07.54.  In 7th was Hannah Cussen who ran a 21:18.33.
Penn dominated this race, with 13 Kingsmen runners finishing before any runner from any other school.
Overall, it was a great performance for both Kingsmen teams.
Up next, the varsity teams will move on to their tournament season, starting with their Sectional Championships this Saturday at Erskine Golf Course.
The boys will be favorites against a field of six teams but they will have their hands full against Riley who will be running on their home course.
The Girls team are the heavy favorites to win their sectional, however, nothing is ever guaranteed.
 Boys Varsity Results – https://drive.google.com/file/d/1g5Gv65uYtJBjzuAoZSpumnl870_awrHz/view –
Boys JV Results – https://drive.google.com/file/d/1JexqP_Vaf3E29hT7GFj2U46wz2LBvw2i/view
Girls Varsity Results – https://drive.google.com/file/d/1h96oEPueZF7n04b-LO8-Xof9GLlSu83E/view
Girls JV Results – https://drive.google.com/file/d/19ldCkuIg6eXfc4TcnJEadgBaeM9DkIGa/view