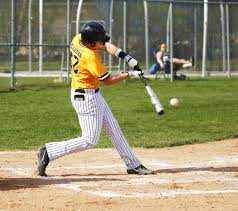 It was a successful weekend for the Kingsmen Boys Baseball team as they won both games in the Plymouth tournament, taking home the tourney title.
In the first game, Penn defeated No. 2 Carroll with a score of 7-3. Cooper Hums and Zach Pelletier led the charge with two hits each, while Pelletier, Adam Lehman, and French each lined doubles. French also had an impressive performance on the mound, pitching 2.2 shutout innings in relief and striking out four batters.
In the second game, Penn started strong with a nine-run first inning and went on to defeat Plymouth High School with a score of 13-2. R.J. Cromartie had an outstanding game, recording 2 hits including a home run. Hums, Pelletier, and French also had 2 hits each, while Casey Finn, French, and Evan Tuesley each hit doubles.