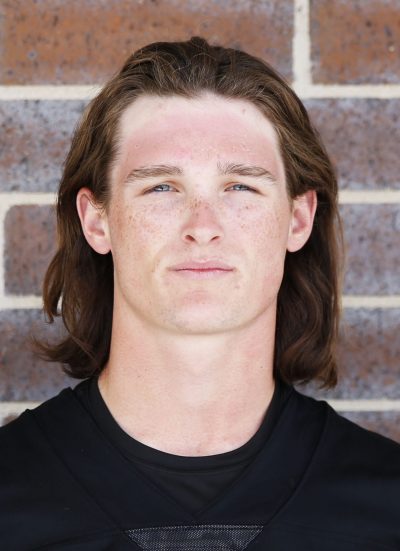 Name: Zachary Hoskins
Sport: Football & Baseball
Twitter handle: Hoski34
Instagram handle: hoski_42
Hashtag that best describes you or your philosophy: #neverbesatisfied
 What is the most important lesson you've learned through Athletics?: To never give up, no matter how tough things get.
What are your pre-game rituals?: I usually take my Saint Christopher medal in my hand or hang it in my locker and pray before we go out for the game.
Who is a player (at any level) you look up to, and why?: I look up to Shohei Ohtani, because he is doing something that is very uncommon in baseball today, with being a phenomenal hitter as well as a pitcher. 
Who pushes you the most at practice?: The main people that push me the most at practice would be my fellow teammates, because whenever I see them pushing themselves it makes me want to push myself even harder.
What do you love about representing Penn High School?: I love being able to carry on the traditions of those who were here before me.
What traits do you love in a team leader?: To me a good team leader is someone who does everything that they are supposed to do, so that those who follow them do the same and they need to be able to lead through any adversity they are faced with throughout the season. 
What advice would you give a freshman about Penn Athletics?: Start working your tail off now, in the weight room, on the field, and in the classroom, because when you get to the varsity level it will pay off tremendously and you will get the playing time that you feel you deserve. 
What is your favorite sports movie, and why?: My favorite sports movie would be "The Blind Side", because it shows how no matter how good you are on the field you still have to work as hard as possible in the classroom in order to get where you want to go. This is something that I have learned myself throughout high school.
What do you love about your sport?: For football, I love the brotherhood that has been formed starting from day one. I also love the fact that I will be able to contact anyone from the team even 10 years from now and it will feel the same as it does today, just talking with them and being able to reminisce on all of the great times we've had together. 
If you can have lunch with any living person, who would it be, and what would you talk about?: I would like to get together with Pittsburgh Steelers Safety, Minkah Fitzpatrick. I would ask him a lot of questions about his journey to the NFL, where he came from, and some suggestions that he would have for me on how I should move forward with the amount of work I should put it in order to reach my full potential with the remaining time I have left to play high school football.