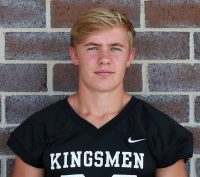 Senior Teigan Bothun enjoyed a breakthrough season for the Penn Football Team in 2019. Now, Bothun is poised to have success on the track for the Kingsmen.
What are you most excited about with the track season being right around the corner?: I'm most excited to be able to sprint again with my friends and show my abilities.
What are qualities that make a good team captain?: Qualities that make a good team captain would be very uplifting and positive to the other teammates and lead by voice/example.
What do you do to calm your nerves before you compete?: I listen to music to calm my nerves before competing.
Who is your sports hero?: Michael Thomas.
What's the best part about competing?: The best part about competing is being able to show what I worked so hard for and winning.
What are your plans after high school?: My plans after high school are to continue playing football in college.
What advice would you give to young athletes?: To never quit and always work hard for what you want.
What is one word that describes you: Determined.
What is your favorite food to eat the night before competition?: Chicken and rice.
What's your favorite song to listen to prior to competition?: Step by NLE Choppa.