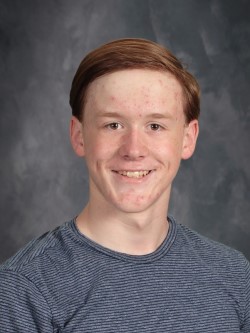 Nate Reininga is Junior at Penn High School and is a member of the Penn Swimming team. He has been swimming competitively since he was eight years old, and he plans on swimming for a Division I school in college.
What is your main events in swim meets?: "My main events are the 100 and 200 yard butterfly, although I can swim pretty much everything."
How have your coaches impacted you to be the swimmer, and the person you are today?: "I feel like I've been pretty lucky as I've had great coaches my entire career. All of my coaches have taught me a lot about leadership and determination. This taught me that hard work will always produce results."
How have your friends and family impacted you on the swimmer that you are today?: "My friends have always been super supportive of my swimming and they always know how to keep me motivated, especially when things get tough. They're a big inspiration to me because I can watch how well they do and it pushes me to do the same. My family has always supported me by going to all of my meets and cheering me on. This creates a great atmosphere for me which helps a lot."
What do you do in your free time?: "During the little time I have not swimming, I like to play piano and hang out with my friends. I also love to give swimming lessons to kids on the weekends."
What gets you in the right mindset before swim meets?: "The thing that hypes me up before a game is good competition. I hate loosing of course so a good race is what motivates me to doing my absolute best."
What's your pre-game hype song?: "I really listen to anything I'm in the mood for, but a big one is "Party in the USA" by Miley Cyrus.