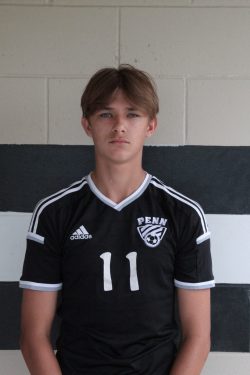 Espen Russell is a member of the Penn Boys Soccer Team.
What were your goals for this season?: To win or do well.
Did you meet your goal?: Yes, I believe I did well and we went 9-3-3.
How do you train during the off-season?: I play for multiple other teams year round.
What do you think sets you apart from other soccer players?: My mindset.
Who are your biggest influences in the sport?: My dad has always been pushing for me to do better in soccer.
What is your biggest strength/weakness on the field?: My weakness is my awareness and my strength is my size.
Who are your biggest supporters – family, friends, teammates, etc.?: My parents are my biggest supporters.
How do you think you could improve your game?: Improve my speed and awareness.
What do you think is your biggest accomplishment this season?: Getting promoted.
What is the most important thing you have learned from soccer?: To value the season while I can because it's over before you know it.