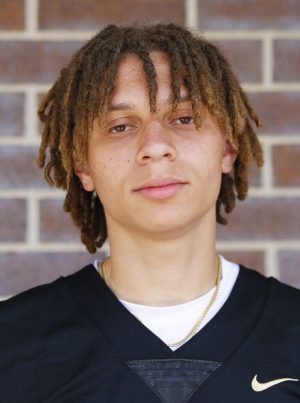 What do you love most about Penn Football?: I Love Penn football, because it's like a second family.
What was your favorite in game moment while playing football for Penn?: I would have to say my pick against Carroll.
What does a good teammate look like?: I say a good teammate is someone who pushes you to be your best everyday.
What is your favorite pregame snack or meal: Chicken with A1 Steak Sauce.
When and why did you start playing football?: I started playing football when I was 5. I really only got into football because that's all my friend wanted to play and so I learned to play because of him.
Who is your favorite NFL player and why?: Lamar Jackson. He is just so fun to watch and he brings such a special element to football.
What does it mean being a Senior leader on the team?: It means a lot to me because I take pride in helping my team in any way.
Why did you choose the number 11?: I like how it looks but mostly for the Spencer James jokes.
What NFL corner would you like to model your game after?: I would have to say man Patrick Surtain Jr.