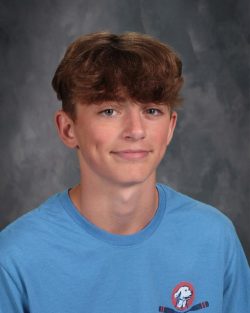 Name: Dawson French
Sport: Baseball 
Twitter handle: @dawsonfrench_13
Instagram handle: @dawson.french13
Hashtag that best describes you or your philosophy: #ilovebaseball
What is the most important lesson you've learned through Athletics?: Working hard can get you somewhere you dreamed of being.
What are your pre-game rituals?: Always stretch, pray, deep breaths when nervous, warm up.
Who is a player you look up to, and why?: Mike Trout, because he is one of the best players in the MLB and he is a great person on and off the field.
What do you love about representing Penn High School?: I love that we are a winning school most of the time, and the teachers and coaches are great.
What traits do you look for in a team leader?: Loud, supportive, good person overall.
What advice would you give a person who is interested in joining Penn Baseball?: Work hard and give it your best effort.
What is your favorite sports movie, and why?: "Benchwarmers", because it is super funny and it's a baseball movie.
What is your favorite baseball stadium food?: Wrigley (Cubs).
What do you love about your sport?: It's a unique sport that challenges you in a lot of ways. You can still fail and be good.