Football: Type 1 Diabetes isn't an obstacle for Penn QB Ron Powlus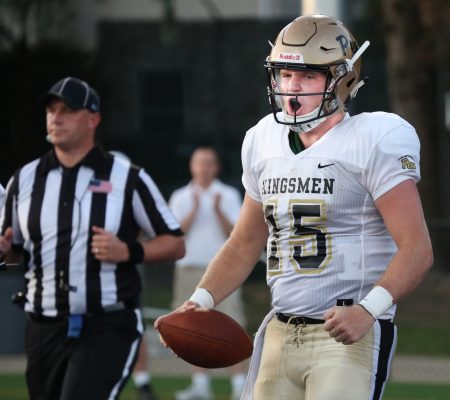 Penn High School quarterback Ron Powlus had one question for his doctor when they met after Powlus was informed at the age of nine that he had Type 1 Diabetes:
"Can I still play Football?"
Powlus has been an outstanding leader for the Kingsmen and a driving force in helping Penn's Gold Rush Offense develop. He excels at Football even though he faces the challenge of dealing with Type 1 diabetes.
Type 1 diabetes means that Powlus' body doesn't produce insulin. He has to manually provide insulin to his body through shots.
Powlus' love for football was apparent when he was talking, saying, "If I could play football forever, I would."
Powlus said that he doesn't worry about his medical condition when he's on the field.
"I've learned my body pretty well, so I know when I can push through or know that I'm in trouble," Powlus said. "And I know I'm in good hands at Penn. I couldn't ask for a better training staff. Trish (Irvin) knows how to help, all of the managers are amazing and all know how and when to help. The coaching staff  knows, and I especially couldn't ask for better teammates."
Powlus has been an inspiration to other youngsters who have diabetes.
"Type One Diabetes isn't the end of a story, but it can be just the beginning, like it was for me," Powlus said. "My final advice for someone in a similar position is don't ever let anything beat you, try your best and if that's not good enough try again and again. Remember to do good, and disappear."
Penn High School quarterback Ron Powlus knew he would have big shoes to fill following Ryan Lynch, who led the Kingsmen to the Class 6-A Football State Championship Game in the 2017 season.
Pressure to perform this season would be high, and being only a sophomore makes it that much more challenging for Powlus. The 6-3, 225-pound quarterback has been well prepared for this moment, but there are no easy games in Class 6-A, which is populated by Indiana's largest schools and many high-level Division I prospects.
Powlus said one of the biggest challenges is "not having big-game experience like most guys I have to play against."
Despite his lack of experience, Powlus noted that he "had a good senior class to model and emulate my game and actions after" and continued to say that it "was a huge help leading into this year."
Powlus was raised in an athletic culture. His father, Ron Powlus, was a starting quarterback for the University of Notre Dame. He continued on be signed to the Tennessee Oilers, Detriot Lions, and Philadelphia Eagles. Powlus also had 10 years of coaching experience.
Powlus, who is the Interim Associate Athletics Director – Football Operations at Notre Dame, has passed down a lot of insight to his son and Ron Powlus described it as, "a blessing and a privilege."
He compared his family to the likes of team, saying, "In my house it is like we are all on one big team. I get to go watch everyone's game and they come watch mine whether it's the (Discovery) Archers, Kingsmen, or the Fighting Irish."
Powlus has nothing but high praise for his father. He said his Dad helps him with with all sorts of problems, football related or not.
"Whether its third-and-long with time running out, or getting out of a bad situation in life, he has been there to help guide me," Powlus said of his father. "I wouldn't be where I am without him."