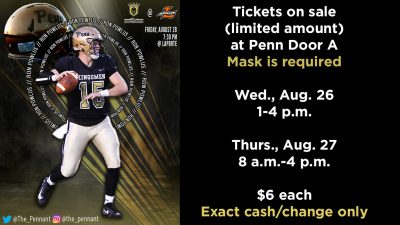 A limited number of tickets for the Penn at LaPorte Varsity Football Game (7:30 p.m. ET, Friday, Aug. 28, 2020) will be on sale from 1-4 p.m. on Wednesday, Aug. 26, and from 8 a.m. to 4 p.m. on Thursday, Aug. 27.
Tickets can be purchased at Door A. Masks are required. Patrons are asked to self-monitor prior to visiting Penn High School for symptoms of COVID-19.
Tickets are $6 each and exact cash/change will only be accepted.