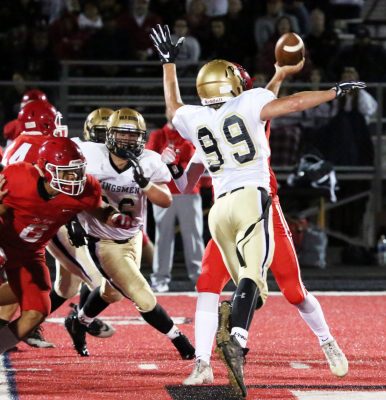 Rockne Hurley has helped Penn reach the No. 3 ranking in Class 6-A Football this season, and he's the No. 3-ranked wrestler at 195 pounds in Indiana.
Academically, he's ranked even higher.
A 6-foot-4, 200-pound senior, Hurley is a two-year starter at defensive end in Football.
Hurley, who helped Penn reach the State Championship Game last season, believes that the Kingsmen have an amazing defense for Penn's offense to ride along with.
"I can't make predictions but I think we've got a great group of guys on our defense."
Hurley, who hopes to attend Notre Dame, is able to excel in two physically and mentally demanding sports while maintaining amazing grades and a positive attitude. But he's not one to brag about his accomplishments.
"It's what I've done my whole life," Hurley said of managing his time and focusing on being a high achiever. "It feels normal to be doing sports and working out year-round, on top of doing my schoolwork."
Hurley's drive for excellence is a result of working at it every single day and make sure that he wasn't slacking.
In addition to playing in the State Championship game in Football last season, Hurley was a State Finalist in Wrestling.
Penn Wrestling Coach Brad Harper described Hurley as a powerhouse.
"Rockne is STONE COLD ON THE MAT LIKE A ROCK!!!," Harper exclaimed. "Rockne has laser-light focus and is ready to launch on anybody who steps on the mat at anytime. Off the mat, off the mat, Rockne has Xtreme focus in his academics and a great leader by example on and off the mat."
Penn Football coach Cory Yeoman said that Hurley sets the standard for the Kingsmen.
"It does not matter if Rockne Hurley is on the field, in the classroom, or in the community, he is Hard Working, self-motivated, and a very respectful young man," Yeoman said.
Even though Rockne Hurley may not brag and show off how talented he is on and off the field, his coaches and peers alike are able to come together and speak nothing but gracious things about him.