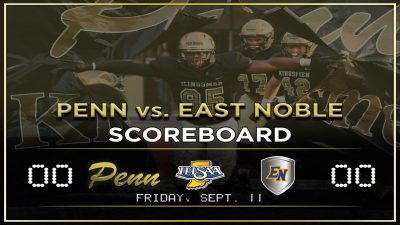 By AIDAN FISHER
Penn Football has added a new opponent for their Week 4 matchup, last year's Class 4-A State Runner-up, East Noble. The game will be at East Noble, with kickoff set for 7 p.m. on Friday, Sept. 11, 2020.
When Cincinnati St. Xavier had to pull out of the Penn schedule due to a change in Ohio's season, East Noble, which also had a Week 4 opening, became the new Kingsmen opponent.
East Noble has been a powerhouse for years, winning the 2000 State Championship. Last season the Knights won their third consecutive NE8 Championship. The Knights are 3-0.
"It's not everyday you get to match up against a really talented school and it'll be a great challenge," said Gavin Proctor, a junior tight end for Penn.
This is the first meeting between the Kingsmen and the Knights. The Kingsmen are 1-1 vs. Kendallville – which consolidated into East Noble – with the games played in Penn's first two seasons, 1958 and 1959.