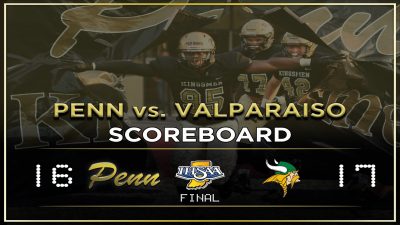 No. 2 Class 5-A Valparaiso used a 37-yard field goal with 3.3 seconds left to score a 17-16 victory against Penn on Saturday, Aug. 22.
A safety called against Valparaiso for holding in the end zone game Penn a 2-0 lead in the first quarter.
Alec Hardrict wiped out a 7-2 Valpo lead with an electrifying 99-yard kickoff return to answer a Vikings' touchdown.
Hardrict also scored on a seven-yard run in the fourth quarter.
Zack Messer made an interception deep in Valpo territory, and Seth Jankowski had a strip and recovery for the Wild Bunch defense.
Valparaiso    0        7        0        10 — 17
Penn            2        7        0          7 — 16
P — Safety (Valpo holding penalty in own end zone)
V — Tommy Burbee 9 run (Liam Shepherd kick)
P — Alec Hardrict 99 kick return (Braden Primrose kick)
P — Hardrict 7 run (Primrose kick)
V — Colin Kwiatkowski 1 run (Shepherd kick)
V — FG Shepherd 37